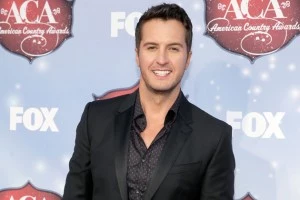 The goal of most artists is to make it big.  And big usually means playing to sell out crowds.  No crowd is bigger than a stadium crowd, and Luke Bryan has made it!
You can credit it his awesome attitude, his great music or his butt shaking skills, it doesn't matter.  Luke Bryan has definitely made it.  2013 was the year that his name got plastered all over the radio and social media.  He began playing to sell out crowds, doing all kinds of television interviews and putting out hit after hit.
His hard work and dedication won him the honor of Academy of Country Music's reigning Entertainer of the Year.  And with all that success come stadiums!  Today, Bryan announced his first three stadium dates of his career: June 21 at Pittsburgh's Heinz Field, Aug. 15 at Philadelphia's Lincoln Financial Field and Aug. 31 at Chicago's Soldier Field.
When asked about this major transition:
"I had some wise people tell me when I moved to town, 'Aim for the stars,'" Bryan said while making the announcement on the set for his 2014 tour, which kicks off Thursday in Columbus, Ohio. "I guess that's when I started dreaming about playing stadiums."
Luke Bryan's tour That's My Kind of Night will also include special guest Lee Brice and Cole Swindell. Dierks Bentley will join the lineup in Pittsburgh and Chicago.
I think this is just the beginning for Luke Bryan.  He is a very talented artists who has a huge following.  Here's to many more stadium shows!
Subscribe to KATP on