Appeals Court Rules in Tim McGraw's Favor in Latest Round of Curb Dispute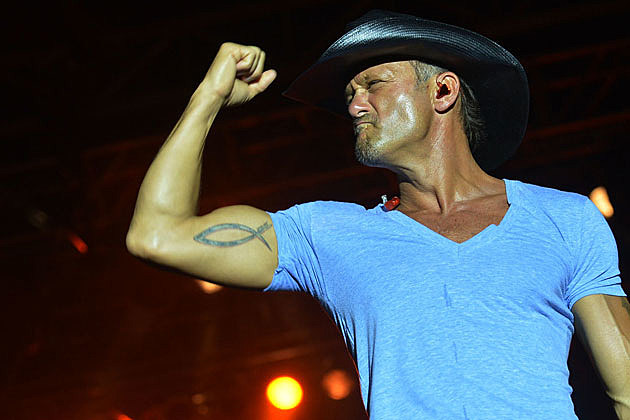 A panel of three judges from Tennessee's Court of Appeals ruled in favor of country music superstar Tim McGraw on Tuesday (Sept. 25), handing him a victory in the latest round of his ongoing lawsuit with his former label, Curb Records.
The legal dispute began in May of 2011, when Curb filed suit against the singer for breach of contract. The label alleged that the superstar delivered his 'Emotional Traffic' album too quickly, which was in violation of a contract clause that obligated him to space albums out by 18 months. They refused to release the album, which McGraw said fulfilled the final obligation in his contract.
The frustrated singer then countersued, alleging that Curb Records was keeping him in a perpetual state of "involuntary servitude" by making him wait so long between albums. McGraw also claimed that the label's choice to release a series of greatest hits packages was a deliberate ploy to extend his contract against his will, since he was then forced to wait another 18 months to fulfill another album in his contract. Curb Records has released a total of seven Tim McGraw hits packages to date.
A judge in Nashville ruled in November of 2011 that McGraw was free to record elsewhere while he waited for the lawsuit to be heard in court. McGraw signed a new deal with Big Machine Records in May; his current single 'Truck Yeah' is the lead track from a forthcoming album the label will release.
Curb Records claimed in June that McGraw was still under contract to them when his new album was recorded, making the album the property of Curb Records. Tuesday's ruling upheld the ruling of a lower court that essentially allowed McGraw to record for another label while waiting for a final decision on legal damages between the two parties.
"We respectfully disagree with today's ruling by the Court of Appeals on that issue, and we intend to continue to pursue this issue, including through the further appeals process as appropriate, in light of the significance of the underlying principles involved," Curb said in a press release Tuesday. "The fundamental issue in this case is whether Tim McGraw fully performed under his contract with Curb Records. That issue has yet to be ruled on by any court, and will be the subject of a full trial on the merits scheduled for later this year."
McGraw's attorney, William Ramsey, tells Country Aircheck the ruling was fair. "This ruling makes it clear that Tim McGraw is a Big Machine recording artist," he states. "He is no longer a Curb artist. He satisfied his obligations in good faith and delivered a lot of great albums to Curb, including 'Emotional Traffic.'"
Big Machine President and CEO Scott Borchetta states the label intends to move forward with McGraw's new project. "We are in agreement with what Bill Ramsey says," the executive tells Country Aircheck. "I signed Tim in good faith believing he was free to sign with us. We've been working toward a first quarter album release all along and have not been slowed by any of the legal issues."
Source:
Appeals Court Rules in Tim McGraw's Favor in Latest Round of Curb Dispute