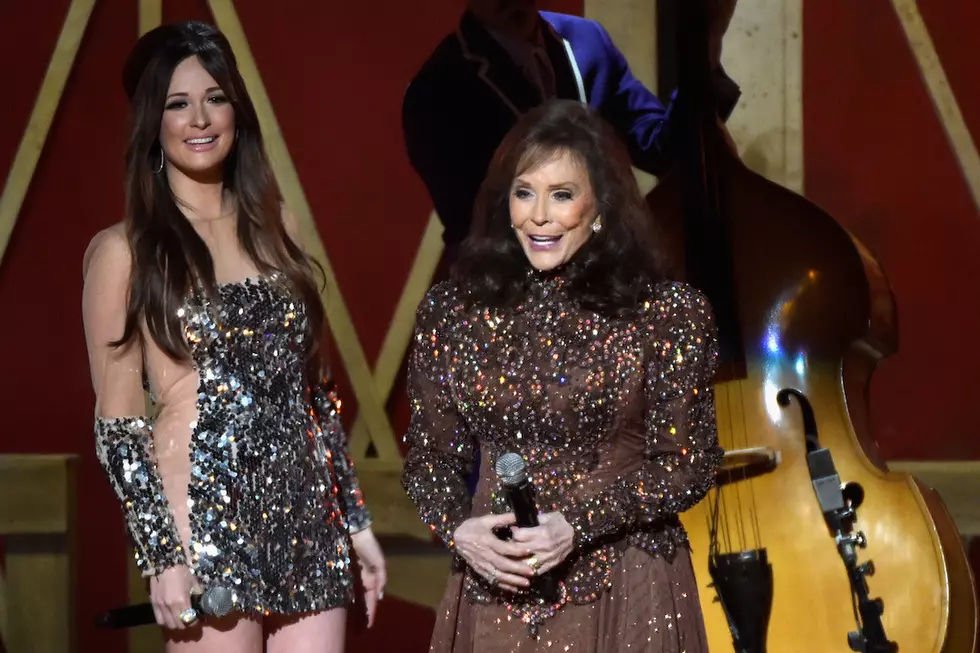 Remember Kacey Musgraves + Loretta Lynn's CMA Awards Moment, and What Went Wrong?
Rick Diamond, Getty Images
Kacey Musgraves' simple, emotional tribute to Loretta Lynn at the Sunday night's (Feb. 5) Grammys was one of the highlights of the show, offering a powerful musical statement of the late country legend's enduring legacy. But it wasn't the first time Musgraves had honored Lynn: Back at the 2014 CMA Awards, the two performed Lynn's hit "You're Lookin' at Country" together.
Musgraves and Lynn delivered a pitch-perfect performance of Lynn's 1971 hit that night, dressed to the nines in sparkling formal wear and backed by a band and a backdrop reminiscent of the Grand Ole Opry stage. But underneath Musgraves' cool exterior was a wardrobe malfunction that she scrambled to fix in the seconds that led up to the performance.
Backstage in the press room, the "Follow Your Arrow" singer shared the whole story with press outlets, revealing that an alarming mishap caused her to go commando onstage at the last second.
"Right before I sang, my panties totally came off," she revealed.
"[They were] the stick-on kind, because look at this dress," Musgraves went on to say, turning to the side to reveal the mesh panel siding of her short gown. "You can't ... there's not much to work with. So they were stuck on, and then they weren't stuck on, and the curtain was about to come up, so literally, I had to rip 'em off and throw 'em to the side."
"They're somewhere around here," she jokingly added. "In case you see 'em, they're mine."
Despite the last-minute wardrobe snafu, Musgraves handled the performance like a pro and went on to have a great night at the 2014 CMA Awards. She even won Song of the Year that night for her hit "Follow Your Arrow."
Since the 2014 CMAs, Musgraves' love for Lynn's music has continued to be well-documented. After Lynn died on Oct. 4, 2022 at the age of 90, the younger star attended the country legend's public memorial in Nashville, and shared a tribute during the event.
Kacey Musgraves Tributes Loretta Lynn at the 2023 Grammy Awards
Musgraves' tribute performance of "Coal Miner's Daughter" was a simple, perfect tribute to the late country legend.