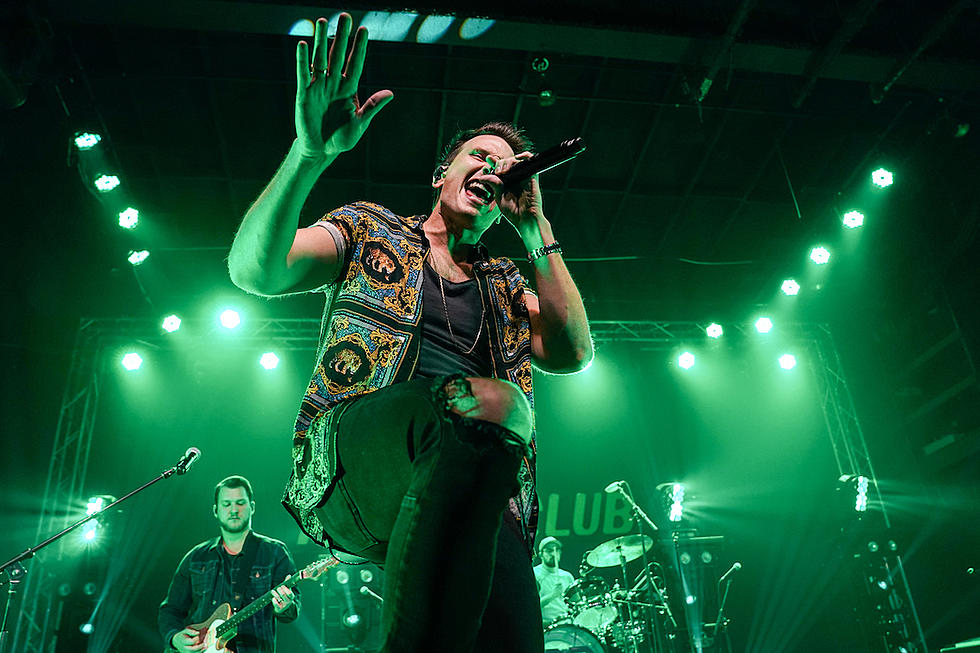 Russell Dickerson's Proud of 2019 ACM Awards Nod Because of 'Emotional Attachment' to 'Yours'
Josh Brasted, Getty Images
Russell Dickerson's 2019 ACM Awards nomination for Song of the Year isn't his first-ever ACM nod -- he was up for an award in 2018, too, in the category of New Male Vocalist of the Year -- but the singer says that, this time around, he's celebrating the recognition in an entirely new kind of way.
"This year is a whole different level for me," says Dickerson, who is among the nominees in the category of Song of the Year for his debut No. 1 single "Yours." "It's just a different proud, you know? A different kind of proud.
"They recognized not just my accomplishments as an artist and a career, but they're recognizing my first song I ever released as a single. I mean, that's crazy, to think about how [few] artists have their first single to be nominated for Song of the Year," Dickerson adds. "That's crazy. So it's a different feeling."
"Yours" is especially meaningful to Dickerson because it dates back to 2014, before he even had his record deal. ""Yours" was my baby for four years," he explains.
"I knew in the deepest part of my soul that this was going to be a big song. I have emotional attachment to this song. And the fact that my wife shot the music video before we even had a record label -- there's so many things stacked on. I wrote it with some of my best friends, [people] who I consider family, and it was the second song that we ever wrote together," Dickerson continues. "There's just so many cool things attached to this one song, and I'm just so proud to be a part of it, and to have an ACM Song of the Freaking Year nomination!"
"Yours" became not only Dickerson's first No. 1 song, but the first No. 1 hit for all of the songwriters that contributed to it. Now, the years that they spent believing in the song are paying off.
"From the day we wrote it -- that was in January of 2014 -- it was still four years later until we actually got our first No. 1," Dickerson says. "That's four years of writing, and believing in ourselves, trusting in God, knowing it was gonna happen, staying the course and staying the path. To be all in that together, and it being the second one we ever wrote -- I don't know. You can't replace that feeling."
As he prepares to head back into the studio and begin work on his second album later in 2019, Dickerson admits that having two No. 1 songs to his name -- and maybe a third on the way -- gives him more confidence.
"Hearing the songs before they went No. 1, I was like, 'That sounds like a No. 1 to me. I don't know! Maybe?'" he recalls with a laugh. "Now, it's definitely a new confidence going into a writing room. We get bigger songwriters wanting to write with us now, and it's fun to have that validation, and take that songwriting to the next level."
In the meantime, Dickerson can't wait to head to Las Vegas to celebrate his accomplishments as well as the milestones that his friends and fellow country stars have achieved this year.
"We'll definitely hit the craps table. That's where we usually find ourselves, me and Thomas Rhett, our wives, our crews," Dickerson shares. "Honestly, I'm so looking forward to just celebrating. It's so fun to walk around the casino and be like, 'Oh, there's our FGL boys. Oh, there's Jon Pardi' -- all these people hanging out. I love that."
The 2019 ACM Awards are set to take place on April 7, and air live on CBS beginning at 8PM ET. The ceremony will take place at the MGM Grand Garden Arena.
2019 ACM Awards: 7 Ways the Nominations Surprised Us
How Well Do You Know the ACM Awards?