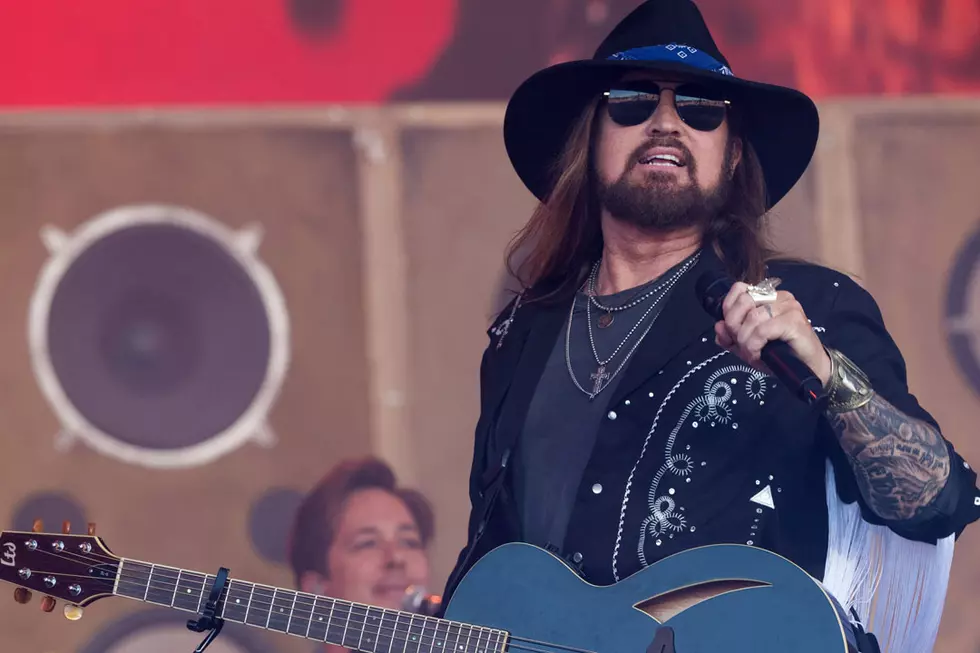 Billy Ray Cyrus Quit Songwriting Before 'Old Town Road'
Ian Given, Getty Images
Before his remix of "Old Town Road" with Lil Nas X came out, Billy Ray Cyrus told himself he would never write another song.
"I told myself, 'You know, I've said everything I needed to say,'" Cyrus tells Taste of Country.
Well...so he thought. Now 16 studio albums into his career (including 2019s The SnakeDoctor Circus), it's easy to see how Cyrus could be satisfied with his past songwriting output. But after he wrote his verse on "Old Town Road" and the remix completely blew up, Cyrus felt a swell of creative inspiration.
"I've written close to 100 songs over the past four months," Cyrus reveals. "And I might've written the same song twice, but in the past 17 weeks there's just been this flood."
He carries his guitar everywhere, and when he sits down to relax, it's not to watch TV--it's to pick a tune or two, even if all he has is a loose melody.
It's not the first time Cyrus swore off something only to turn around and have it be one of the most prolific moments of his career. In the mid-2000s, Cyrus also swore he'd never do TV again.
"After Doc, I wrote down in my goals that I'd never do TV again," Cyrus says. Then when his daughter Miley Cyrus was auditioning for a new Disney show called Hannah Montana, things changed. While Miley was originally trying out for a smaller role, Cyrus read through the script and told his daughter, "You're the lead in this thing."
Then when she landed the role, the show actually looked at Cyrus to play the dad, even though he wasn't auditioning. "I said, 'I don't know. Couldn't you get a real actor for the dad?'" Cyrus laughs.
The character in the show was originally named Kyleigh, but Cyrus kept screwing up during taping and calling her "Miley." When one of the producers yelled "Cut!" after his flub, Cyrus figured he was getting fired. Instead, the producer said, "Everything in the script that says 'Kyleigh' is now 'Miley.'"
Cyrus attributes the realism of his interaction with Miley to part of the show's success, the same way the "Achy Breaky Heart" video captured his at-the-time essence; and "Old Town Road" is capturing everybody from toddlers to grandparents.
"With Achy Breaky, I was living those songs with my band," Cyrus says. "In Hannah Montana, 'dang flabbit, sweet nibblets,' those were my words."
He says that's also why he was drawn to "Chevys and Fords," a new single he released with Johnny McGuire. "There's always going to be neighbors arguing about Chevy and Ford," Cyrus laughs.
How Well Do You Know '90s Country Music?