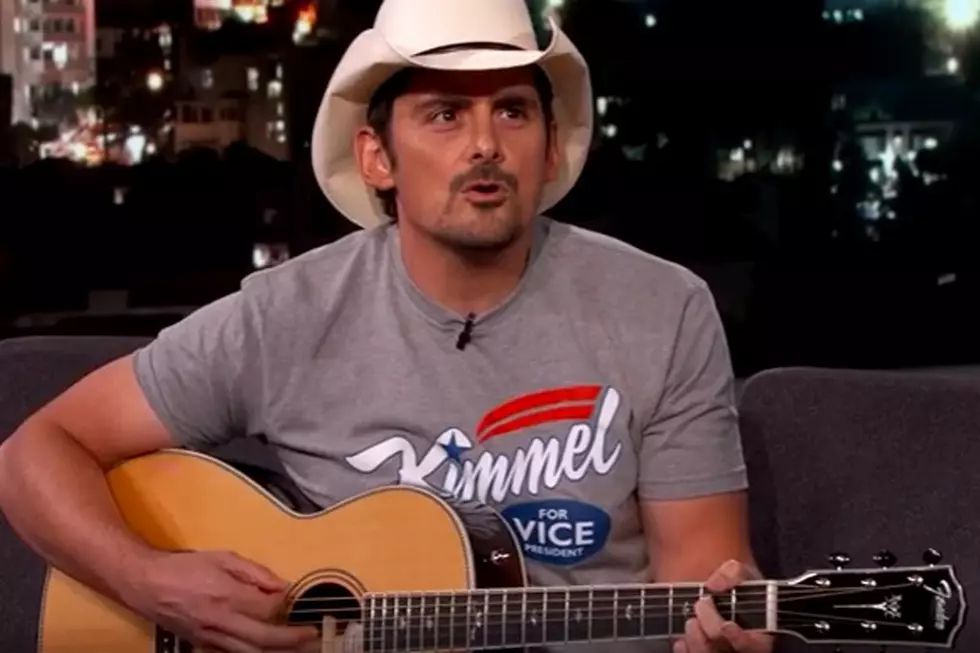 Brad Paisley Addresses Bathroom Gender Issue on 'Kimmel' [Watch]
YouTube
Brad Paisley is well-known for his humorous antics on the road and during his hosting duties at the CMA Awards with Carrie Underwood — and he's always on top of his current events. While visiting Jimmy Kimmel Live this week, the singer shared a new song he wrote about the transgender bathroom law in North Carolina.
"Country music dealt with this in the '60s," he said before going into his song. Modeled after Tammy Wynette's 1968 hit "Stand by Your Man," Paisley put his own thoughts on the transgender bathroom debate into song.
"Sometimes it's hard to be a woman," he sings. "Especially when you were born a man. In North Carolina they're checkin' for vaginas if you want to use the can."
After much laughter from Kimmel and the audience, Paisley segued into the chorus while maintaining a straight face.
"I say, sit by your man. We're all just human beings / He's just a human peeing in the stall right next to you. Sit by your man. Why is this such a big deal?"
Later, Paisley took the outdoor stage with Demi Lovato for a performance of their new duet, "Without a Fight."
It was announced this week that Paisley will join forces with Underwood for the ninth consecutive year to co-host the 50th annual CMA Awards in Nashville, Tenn. this November.
"I look forward to hosting the CMA Awards each year," Paisley says in a press release. "Carrie and I have certainly hit our stride in terms of balancing humor and a genuine respect for the nominees and winners. This year the stakes are higher than ever as we honor the legacy and traditions of the past 50 years. We will give it everything we've got."
Watch Brad Paisley and Demi Lovato Sing "Without a Fight"
Brad & Carrie's Best CMA Awards Moments
21 Really Wild CMA Awards Outfits