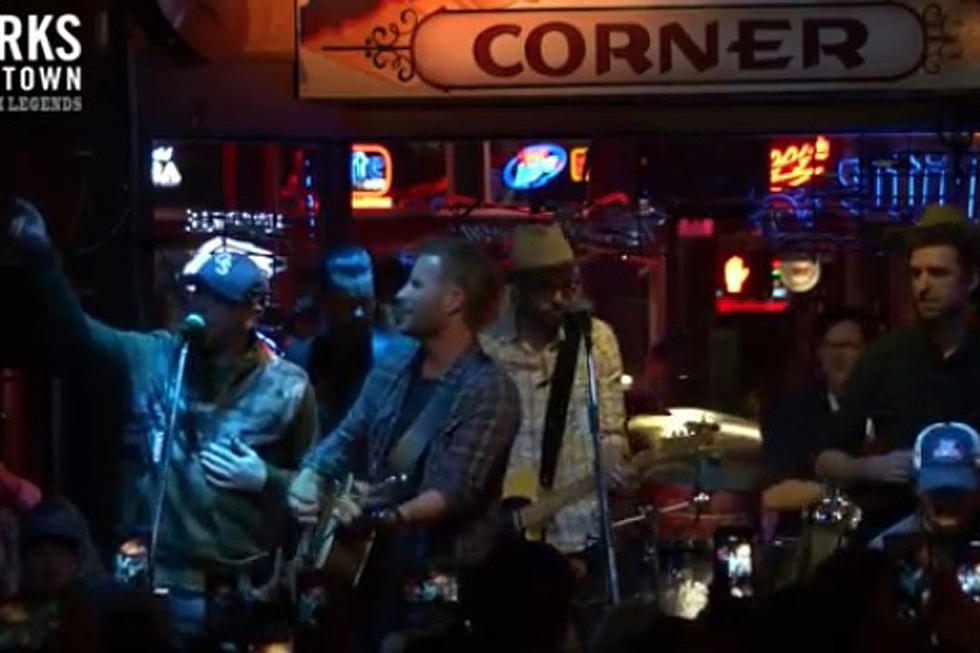 Dierks Bentley, Cole Swindell Kick It Old School at Nashville Honky-Tonk [Watch]
Dierks Bentley, YouTube
Dierks Bentley surprised Nashville fans when he revealed that he'd be playing a free show at Legends Corner on lower Broadway on Monday night (Nov. 14). His fans came out in record number, and so did his friends, including Cole Swindell, who joined Bentley on stage for a two-song performance.
"I want to get a buddy of mine up here to bring us into another decade," Bentley told the crowd. "We're on tour together next year. We'll playing together across the street in two months. He's here right now coming off his sixth No. 1 in a row. Give it up for Cole Swindell."
Bentley admitted he's a bit worried about being on the road next year with Swindell and Jon Pardi, likely because of all the ruckus the two openers will be bringing to the tour.
"We're calling it the What the Hell Tour because I feel like every morning I'm going to ask myself, 'What the hell? Why did I bring these two crazy guys out here on the road with me?'" Bentley joked.
"I met him when he was selling T-shirts out there on the road and I thought his name was Coal spelled C-O-A-L and I still have him in my phone as C-O-A-L, and I'm never going to change it because I've known him before he was anybody out there selling T-shirts and I'm so proud of who he's become and what he's doing," he added of his friend.
And with that, Swindell joined him on stage. After being told not to play his own song, Swindell settled on a Joe Diffie cover.
"I fell in love with country music back in the '90s so I'm going to do a couple '90s songs here," Swindell said. "We got any Joe Diffie fans in here? I'm going to send this one out to all my folks back home. This one's called 'John Deere Green.'"
He stuck around for one more song by Randy Travis, the poignant "Forever and Ever, Amen."
Dierks Bentley and the Nine Other Best Albums of 2016
Why "Different for Girls"? Dierks Bentley Explains