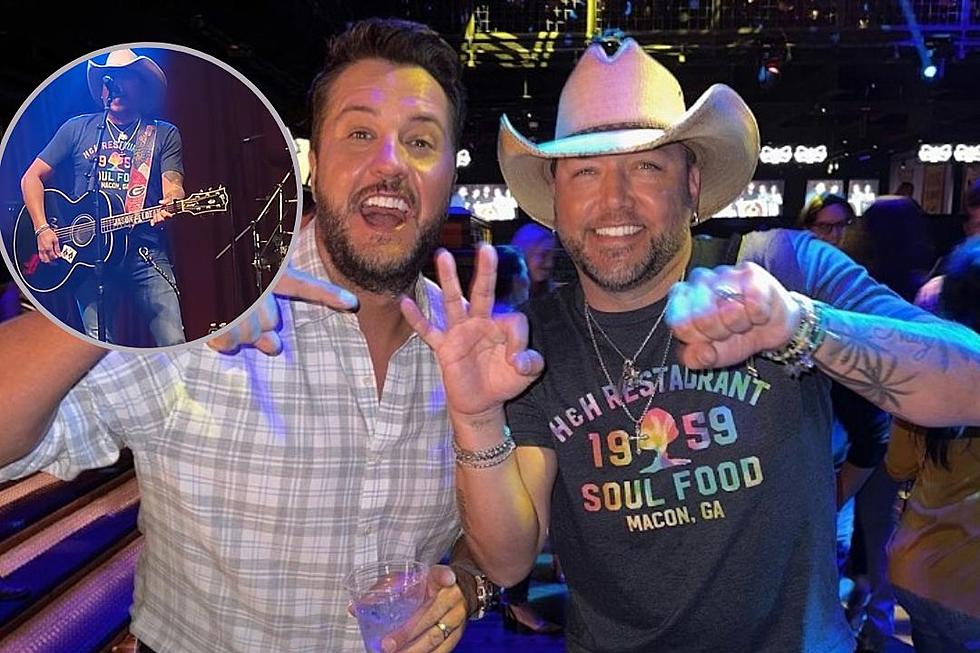 Jason Aldean Sings a Luke Bryan Song to Luke Bryan [Watch]
@Instagram
Earlier this week, Luke Bryan and his team got together to celebrate a giant moment in his career, and for country music. Bryan and his team had a party to commemorate his 30th career No. 1 song in country music — and Jason Aldean was on hand to help.
Admitting that he never thought he'd make it to 30 No. 1 songs, Bryan said he expected to achieve eight to ten hits at best. It really took him until he started having multiple No. 1s that he noticed how much of an impact he was having. Bryan said, "You're focused on everything going on around you, you don't sit back and actually think about you're piling up quite a few No. 1 songs."
It all went down at Brooklyn Bowl in Nashville. Aldean, Lady A's Hillary Scott and Dave Haywood, and Dierks Bentley were some of country music's elite in attendance. Bryan wasn't too completely sure who was going to come out and perform on this exclusive night.
As the event progressed, out from the side stage stepped Aldean. He had a custom guitar strap that had the Georgia Bulldogs and Atlanta Braves logos on it — fitting, as the two singers both hail from Georgia.
Aldean took the stage and said, "I'm obviously honored to be here. I've been along I feel like for all 30 of these number ones with you and I'll never forget Luke came to my house one day and he just finished the Tailgates & Tanlines album and wanted to play me some cuts on it."
Aldean went on reflecting about their long relationship.
"We just sat there and listened to it and I just didn't know what was going to happen, but I just knew he had a lot of hits on the record and just a really great album."
After he performed, Aldean and Bryan posed together for a photo where Aldean is smiling ear to ear with Bryan and holding up the number 30 with his hands. Bryan seemingly just as excited is pointing to Aldean and has his mouth open in shock at the feat as well.
Bryan is currently out on the road on his Farm Tour, while Aldean is on his Highway Desperado Tour.
Evan Paul is the host of Taste of Country Nights, a syndicated radio show heard on more than 120 country radio stations nationwide, every night from 7PM to midnight. He plays the best new country music and interviews today's top stars, like Luke Combs, Miranda Lambert, Dan + Shay, Keith Urban, Carrie Underwood, Luke Bryan, Chris Stapleton, Lady A, Morgan Wallen, + more! 
Pictures: Luke Bryan Live In Nashville
Luke Bryan played Nashville's Bridgestone Arena on Saturday, Aug. 12. Opening acts included Ashley Cooke, Chayce Beckham and Jackson Dean.
The 50 All-Time Best Luke Bryan Songs, Ranked
Luke Bryan's massive catalog of songs perfectly walk the line between heartfelt and fun. Here are our 50 favorite hits and deep cuts.
Pictures: See Inside Luke Bryan's Stunning Beach House
Luke Bryan
listed his 4,600-square-foot beach house for sale in December 2022. The stunning Florida mansion includes four bedrooms and bathrooms and comes furnished. The master bedroom overlooks 95 feet of water frontage, but if you don't want to descend all four floors to get there, you can absorb the warmth of the private, heated pool. This Santa Rosa Beach property is on sale for $18 million, among the most ever for a
country star's house
.