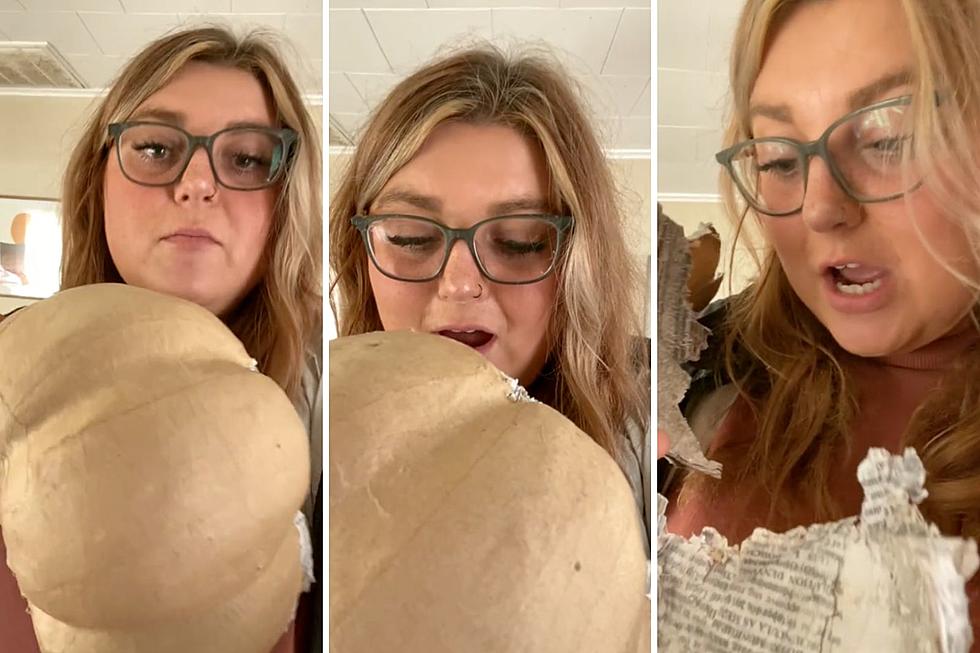 Woman Wants Answers After She Found This in Hobby Lobby Pumpkin
cgillum8 via TikTok
This is a whole different kind of scary when it comes to Halloween decorations.
A woman on TikTok has shared the odd information she allegedly found inside a decorative paper mâché pumpkin she purchased from Hobby Lobby.
What Was Found Inside A Hobby Lobby Pumpkin
Clara Gillum explains that her dog chewed on the pumpkin while she was at work.
"Inside is the most random s--t," Gillum says holding a sizable chunk of the destroyed pumpkin up to the camera.
For those unfamiliar with the crafting style, paper mâché involves layering wet paper around an object. The wet paper hardens over time and creates a shell once the object in the center is removed.
Gillum revealed the paper allegedly used to make the pumpkin she bought at Hobby Lobby contained financial information including evidence of a $3 million debt connected to a "special education fund.
"I have account numbers inside of it," she says to the camera. "I don't feel like I should have this information. Like Hobby Lobby, what are you doing here?"
The Response To The Information Found In The Pumpkin
So far, there has been no response from Hobby Lobby regarding the pumpkins, which are currently still for sale on the store's website for $7.79. There is no mention of the paper used for the pumpkin in the product description or in any of the online reviews for the product.
Some who have watched Gillum's video say they want to see for themselves what's inside Hobby Lobby's pumpkins.
"Is this an ad for Hobby Lobby? Because now I want one of those pumpkin," TikTok user julie_rysenga commented.
The Worst Superhero Movie Costumes
Superhero movies costumes have gotten incredible sophisticated in recent years. But they weren't always that way — and even today, there are still some costumes that don't quite work out.