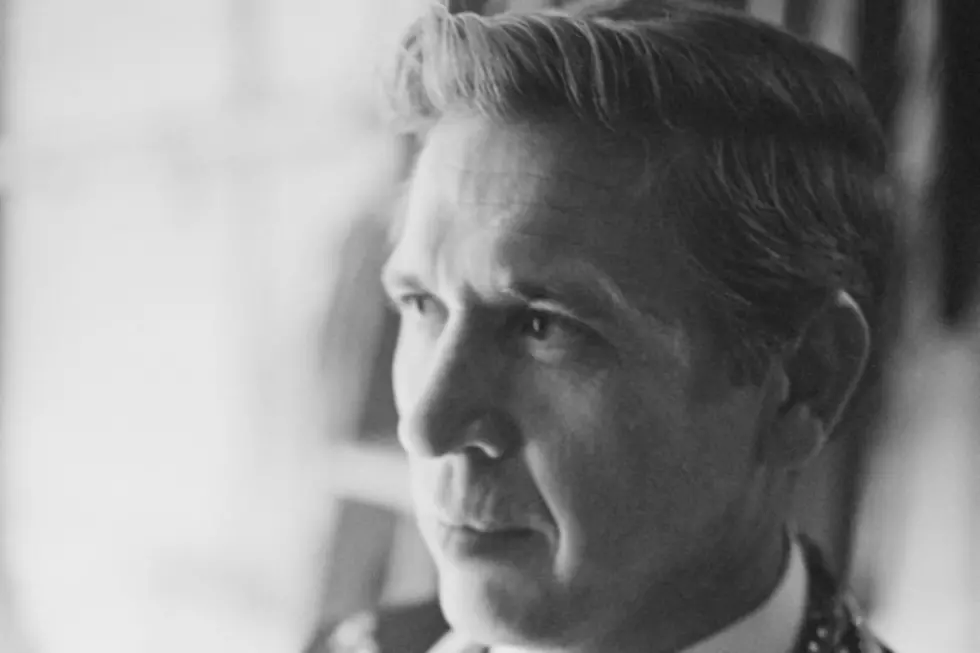 Don Paulsen / Michael Ochs Archives, Getty Images
Buck Owens' legendary country career spanned five decades. During that time, he made his name as a singer-songwriter, bandleader, solo artist and crossover television star (he was one of the hosts of the long-running country variety show Hee Haw).
By the numbers, Owens career resulted in over 39 studio albums and 21 No. 1 hits, and many of his songs -- both written and performed by him -- have since become country standards.
The Boot dug through those 39 albums' worth of music and pared Owens' catalog down to his 10 absolute best tunes. Scroll through the list below to see our choices for Owens' greatest songs:
10

"Buckaroo"

From 'The Instrumental Hits of Buck Owens and His Buckaroos' (1965)

Coming in at just over two minutes long, this 1965 Buck Owens and the Buckaroos song was the fourth No. 1 song for Owens in a year's time. The track opens with a cheerful electric guitar solo, and when the drums and the rest of the band fall in, listeners might expect the singing to start -- but it never does. That's actually what's most impressive about "Buckaroo": It's an instrumental that still became a chart-topping hit. No instrumental song has topped the Billboard country chart since.

9

"Waitin' in Your Welfare Line"

From 'Open Up Your Heart' (1966)

This 1966 Owens single draws from other musical influences -- there's a bit of a folksy, bluesy rock undertone -- but the way its central premise is structured around a single, repeating metaphor ("I got the hungries for your love / And I'm waitin' in your welfare line") is pure classic country. Owens sings it first in the song's opening line, and then again and again as the tag. This hungry love song became Owens' 10th No. 1 hit.

8

"Together Again"

From 'Together Again' (1964)

"Together Again" is now a country classic, one that has spawned dozens upon dozens of covers. But the original belongs to Owens, who wrote the song and released it as a single in 1964. The star of this slow-moving love song is Tom Brumley's steel guitar; Brumley's solo was so impressive, in fact, that it inspired Jerry Garcia to learn the instrument.

7

The 1957 non-album single "Hot Dog" was penned by Owens and Denny Dedmon, but the credit went to Corky Jones … which we now know is a pseudonym Owens was using at the time. Why? In short, because "Hot Dog" was kind of a weird song that fell outside of the country mainstream, and Owens didn't want to get in trouble with his label. The result was this super-fun early track about falling in love with a girl at a hot dog stand.

6

"Ruby (Are You Mad)"

From 'Ruby' (1971)

The 1970s may not be when most of Owens' best-known work was recorded, but it would be a mistake to forget about 1971's "Ruby (Are You Mad)." A successful No. 3 hit in its time, it's nevertheless often overshadowed by his 21 No. 1 hits or his earlier singles, but it shouldn't be. This song has everything: big, echoey gang vocals, blistering guitar picking and one of the toe-tappingest rhythm lines in Owens' discography.

5

"Streets of Bakersfield"

From Dwight Yoakam's 'Buenas Noches From a Lonely Room' (1988)

Owens first released a recording of "Streets of Bakersfield" in 1973 to little fanfare, but in 1988, he and Dwight Yoakam teamed up to re-record the song, and that version became a No. 1 hit. The duet was an important point in Owens' career: It was his first No. 1 single in over a decade, and his last chart-topper.

4

"I've Got a Tiger By the Tail"

From 'I've Got a Tiger By the Tail' (1965)

This 1964 single from Owens and the Buckaroos features one of of his most memorable opening lines: "I've got a tiger by the tail," he sings, "it's plain to see." The song, which reveals itself to be more about the narrator's dealings with a wild woman than about an actual tiger, would become the group's most successful single, and their only crossover Top 40 hit.

3

"Love's Gonna Live Here"

Single (1963)

In 1963, Buck Owens released "Love's Gonna Live Here," a song that starts, "Oh, the sun's gonna shine in my life once more / Love's gonna live here again / Things are gonna be the way they were before / Love's gonna live here again." In many ways, this song was lyrically ahead of its time, as it sounds very much like the modern "name it and claim it" school of manifesting your dreams into reality. But for Owens, they were just the lyrics to his second No. 1 -- a hit that would stay at the top of the chart for a whopping 16 weeks.

2

"Who's Gonna Mow Your Grass?"

Single (1969)

It sounds markedly different from many of Owens' early '60s singles, but there's no denying how fun 1969's "Who's Gonna Mow Your Grass?" is. With an opening electric guitar riff that would sound at home on an early Beatles album, "Who's Gonna Mow Your Grass?" features a narrator cleverly pleading his case to his lover: If you leave me, he asks her, "Who's gonna bring you breakfast in bed? Who's gonna whisper goodnight?" -- and, of course, most importantly, "Who's gonna mow your grass?"

1

"Act Naturally"

Single (1963)

You may be used to hearing Ringo Starr sing this one, but the original recording of "Act Naturally" was made in 1963 by Owens and the Buckaroos. The song, which is about an aspiring movie star doing a version of method acting, became an instant hit. It was Owens' first song to hit the top of the country chart, and it almost instantly transformed him into a bona fide country music superstar.