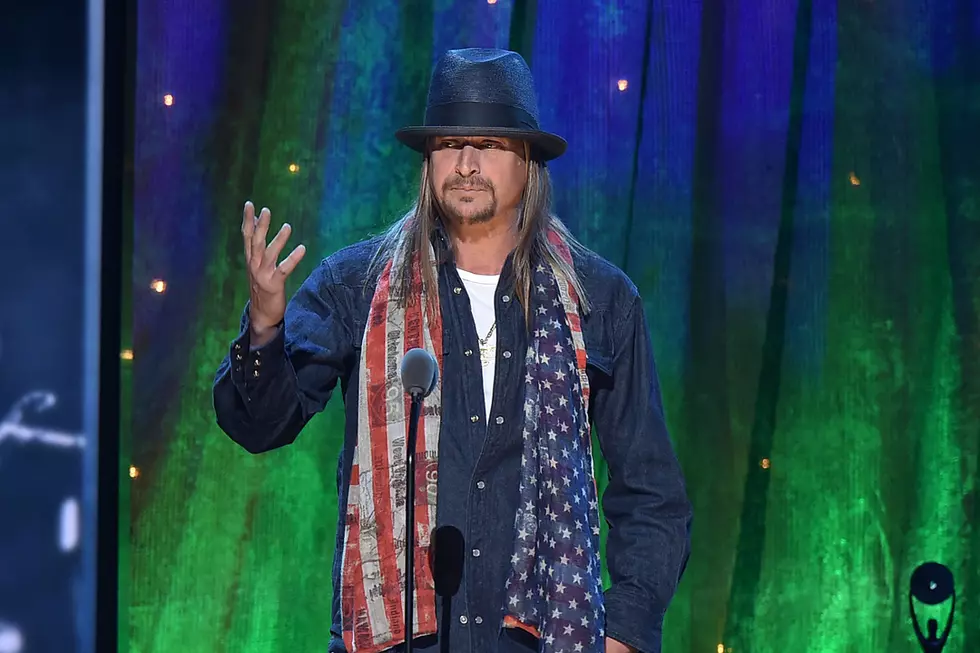 Kid Rock to Close Detroit Restaurant After Backlash From Oprah Winfrey Rant
Theo Wargo, Getty Images
Kid Rock has decided to close his Detroit-area restaurant in the wake of the backlash he's facing in his hometown over a recent profanity-laced rant he directed at Oprah Winfrey and other television personalities.
The Detroit Free Press reports that the 48-year-old rapper, rock and sometimes country singer plans to close his Kid Rock's Made in Detroit restaurant, which he opened at Little Ceasars Arena in Detroit in 2017. Kid Rock has "voluntarily decided not to renew" his lease in 2020, according to a statement from Ilitch Holdings early Wednesday (Dec. 4).
"We are in the business of amazing and inspiring our fans and guests through an incredible array of world-class sporting and live entertainment events," Ilitch Holdings President of Sports and Entertainment Chris Granger says. "As our venues are open, inviting, inclusive and respectful to all, we look forward to bringing on an exciting new concept that aligns with our community and company values."
The statement does not directly address the negative publicity surrounding Kid Rock's recent public outburst, which was caught on camera when he took the stage looking and sounding unsteady in late November at his Kid Rock's Big Ass Honky Tonk & Rock 'N' Roll Steakhouse in downtown Nashville.
"I'm not a bad guy. I'm just an honest guy that says, 'Hey, I don't like Oprah Winfrey or Joy Behar,'" he proclaimed, drink in hand.
"They can suck d--k sideways," he added with an obscene gesture.
Kid Rock's diatribe prompted some in the audience to speculate that he was intoxicated. One off-camera person in attendance is heard saying, "Mental breakdown," and later screaming, "This is so racist!" when Kid Rock — whose real name is Robert Ritchie — says, "F--k Oprah Winfrey."
"F--k Kathie Gifford," he adds as a seeming afterthought, causing another audience member to say, "He's blackout drunk as f--k."
The "Picture" singer says Winfrey is "gonna get some white women to believe in this s--t" before directing more profanity at her later in the clip.
"And if you say that, it's like, 'Well, I'm pretty sure Kid Rock is a racist," he says, adding that people who think that can "F--k off ... sideways."
The video later shows Kid Rock performing on stage and then sitting at the edge of the stage before what appears to be a police officer helps him regain his feet and escorts him from the stage. The video of the incident has gone viral after being widely covered by many media outlets, and Kid Rock later turned to Facebook to explain his side of the situation.
He turned to social media once again on Wednesday morning to share his reasons for not renewing his lease on his Detroit restaurant, which was the site of protests when Kid Rock opened the Little Caesars Arena with six concerts in 2017. The Michigan National Action Network has revealed plans for a media event at noon on Wednesday to "discuss and respond to questions about the reprehensible tirade directed at Oprah Winfrey and others by Kid Rock," and the entertainer says he no longer feels wanted in his hometown.
"I appreciate all who have patronized our place and still have much love for the City of Detroit and the people / organizations that I have helped there for years, black, white, whatever, but learned long ago, go where you're celebrated, not tolerated," he writes on Facebook.
"I guess the millions of dollars I pumped into that town was not enough. I will let the NAN network and others go ahead and take the wheel now. Good luck," he says, adding, "I may be guilty of being a loud mouth jerk at times, but trying to label me racist is a joke, and actually only does a disservice to the black community, which I have supported my entire life, by trying to alienate myself and many others."
He ends with an unprompted message to those he sees as attacking him over his political views: "PS - Hey Al Sharpton, you or your cronies will never beat me you tax evading, race baiting clown! Trump 2020!!"
Kid Rock's Childhood Home Is Far From Humble: