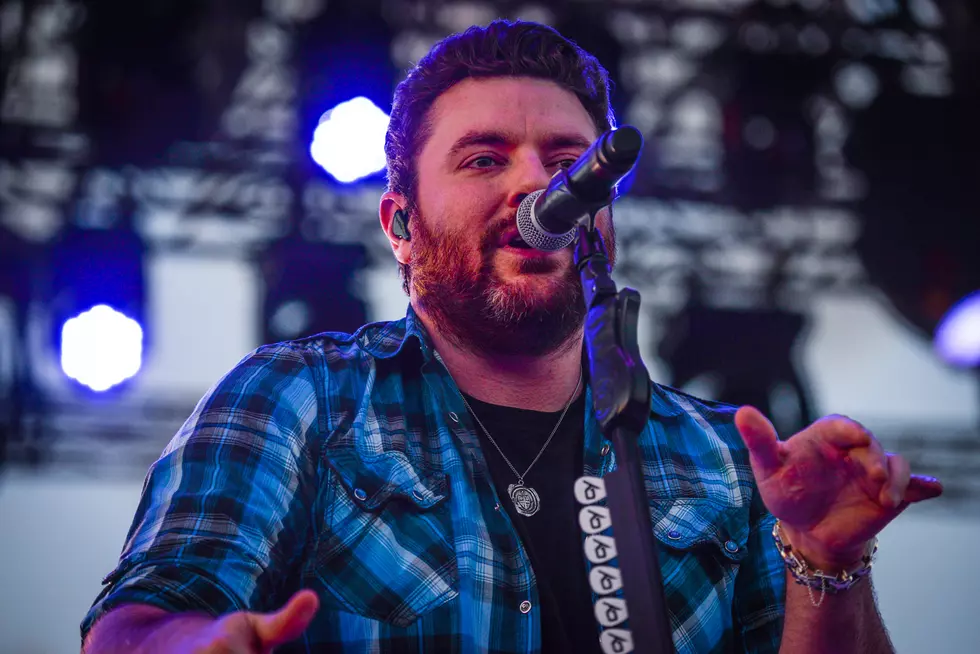 10 People Chris Young Name-Checked at Country Jam 2017 [Pictures]
CJ Berzin
Chris Young's Friday night (June 16) set at Country Jam 2017 included a number of onstage shoutouts to his friends, collaborators and musical heroes.
In between hits such as "I'm Comin' Over," "Neon" and more, Young covered a few artists who have made an impact on his career, praised a couple of his recent in-studio partners and even shared special memories involving some lesser-known names. Throughout his 75-minute set, the fans at Jam Ranch heard the country star name-check the following 10 people.
1. Conway Twitty
The second verse of Young's song "I Can Take It From There" begins "I'm gonna put an ol' record on, Conway Twitty / Yeah, girl, I'd love to lay you down." After singing those lines the first time around, Young paused and told the crowd that he was going to sing them again — and he wanted to hear louder cheers for Twitty.
2-4. ZZ Top, AC/DC and the White Stripes
During his set, Young and his band covered ZZ Top's "Sharp Dressed Man" -- and those paying extra close attention heard two other musical shoutouts during the song as well. Young's bassist weaved the bass line from the White Stripes' "Seven Nation Army" into the cover, while his guitarist played the guitar riff from AC/DC's "Thunderstruck."
5. Vince Gill
Before he played his recent single "Sober Saturday Night," Young shared with the audience that one of the first people he saw live after moving to Nashville was Vince Gill.
"He didn't hang up on me when I called his house about this song!" Young joked, though the tone of his voice clearly indicated that he still can't believe he got to work with one of his icons.
6. Johnny Bulford
Songwriter Johnny Bulford is one of the names behind Young's hit song "Lonely Eyes;" he co-wrote the track with Jason Matthews and Laura Veltz. Young shared with the Country Jam 2017 crowd that it was a "right place, right time" situation that led to him getting to record the song: He happened to walk by a writing room and hear Bulford playing "Lonely Eyes" just a day after it was written, knew he needed to record it and asked to do so right then and there.
7. Keith Whitley
"I'm a huge Keith Whitley fan ..." Young told Country Jam-goers before covering Whitley's "When You Say Nothing at All."
8. His Friend Corry
9. Cassadee Pope
Young closed his Country Jam 2017 set with his smash hit "Think of You," a duet with Cassadee Pope.
"She's not here tonight," Young warned his audience," and I'm definitely not singing the 'girls' night out' line, so ladies, make it loud and proud right there."
10. The Fans
"I'm gonna say thank you to you guys a lot tonight," Young told his Country Jam 2017 crowd early on during his set, "because y'all are the reason I get to stand up here and do this."
Learn More About the Best Country Music Headliners