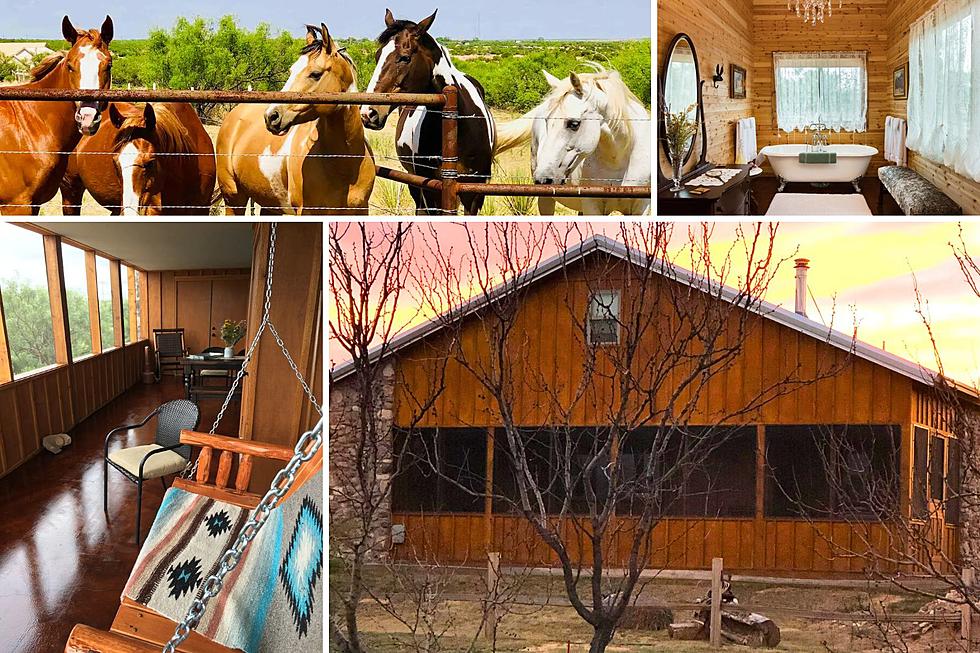 Experience Luxury In a Stunning Airbnb Cabin Near Palo Duro Canyon
Andrea via Airbnb
Spring brings out the need to get away from the hustle and bustle of daily life.
With life as busy as it is, sometimes you might not have the luxury of going very far, and that's why it's ok to get away near home.  Luckily we have Palo Duro Canyon outside our door, and the closer you get to the canyon, you'll find some amazing places to stay.
However, if you are wanting to stay in something that feels like you're a million miles away from home, yet you want something luxurious, then have we got the perfect place to stay.
This is an Airbnb located near Palo Duro Canyon.  It's the perfect place to get away for the weekend, week, or month.
This Airbnb is full of luxury.   It's a perfect spot to spend some time with the one you love, or an adventure for you and your family especially if your kids are older.
One of the great things that will catch your eye when looking at this Airbnb, is the bathtub.  It's beautiful and it makes you want to take a long relaxing soak.
The home is furnished with all types of beautiful antiques from the furniture, to the stove and the phone on the wall.  You'll be asking the owner, "Where did you find these antiques?"
The kitchen is fully equipped and has anything you could possibly need.  The fridge is also stocked with champagne and all the fixings for breakfast on your first morning.
Your wraparound porch dream!
The wraparound porch is perfect for drinking coffee watching the sunrise or relaxing on the porch swing while watching the sunset.
The cabin is surrounded by wildlife and even has horses on the property, but with any animal, it's definitely, look but don't touch.  
If you don't want to spend all your time in the cabin or on the property, don't worry you are minutes away from Palo Duro Canyon.  It's perfect for hiking, a picnic or just driving through.  You can also enjoy ziplining near the canyon, jeep tours, horseback tours and so much more.
But if it's peace and quiet you want, especially if you need to decompress, this is the perfect Airbnb for you.
Luxury Camping Near PDC
Get ready for a luxury cabin close to Palo Duro Canyon. The cabin sits on 6.5 acres. This cabin is known as the Buffalo Lodge.
This cabin sleeps 4, and it is not recommended for kids under 12 years old.
The kitchen is fully equipped
The cabin is equipped with WIFI and a landline.
The cabin is $180 per night but with added cleaning fee and Airbnb service fee the total will be around $359 before tax.
Visit The Hideout-Buffalo Lodge
here
for more information or to book.