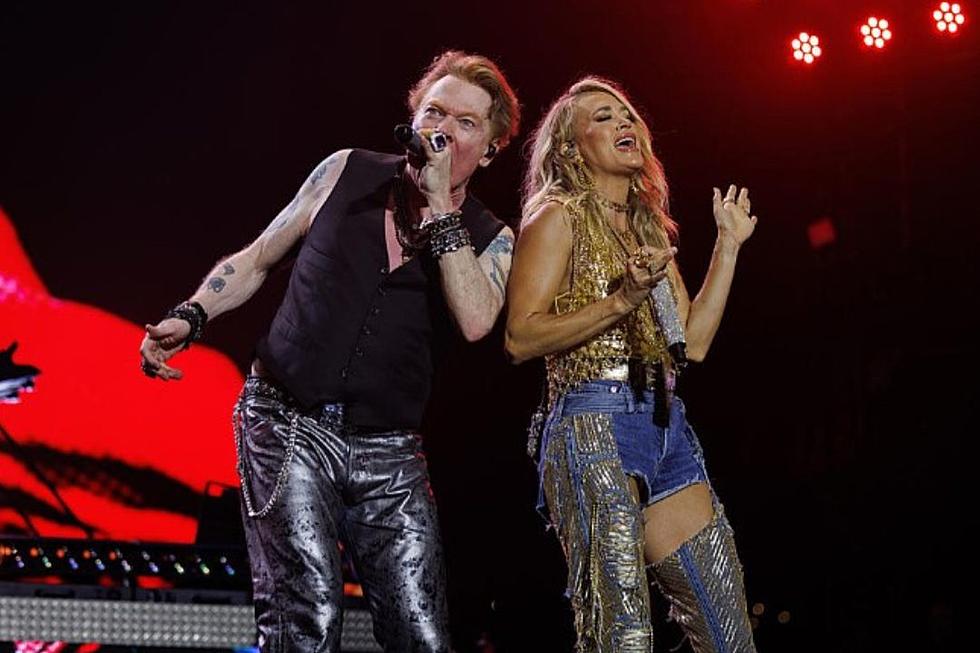 Carrie Underwood Admits She Was 'Super Nervous' Opening for Guns N' Roses
Jeff Johnson
Carrie Underwood is one of the most successful music artists of any genre. She has sold more than 85 million records and won countless of awards over her illustrious career. She has certainly seen her share of sold-out arenas and stadiums, and headlined more shows than anyone can even count.
Recently, in an interview with Las Vegas Magazine, Underwood revealed that she was extremely nervous opening for Guns N' Roses this past summer:
"I was super nervous going into the whole thing because it's not my audience. I haven't been an opening act in a very long time and I would only do it for Guns N' Roses. When they called us up and said, 'Hey, do you want to do this?' I was like, 'Yeah, you could pay me in tickets! I'll sit up there and watch the show and just have fun.'"
This stint of opening up for Guns N' Roses was something that manifested itself over a period of two years. Underwood was a surprise guest during Guns N' Roses' London tour stop in July 2022, and she brought out Guns N' Roses front man Axl Rose during her Stagecoach set that same year.
Underwood made sure that some of the songs in her opening set would help her mesh with the Guns N' Roses audience in attendance. In her set, she covered Joan Jett's "Bad Reputation" and Motorhead's "Ace of Spades."
Two of the shows she played on the tour with Guns N' Roses were in Canada, and the final third show was in Underwood's own hometown of Nashville. Underwood had no issue garnering the attention of the massive hometown Nashville audience, as some were in attendance just to see the country star do her thing.
Underwood is currently in Vegas for some more shows as part of her Vegas residency at Resorts World, which now extends through 2024.
Evan Paul is the host of Taste of Country Nights, a syndicated radio show heard on more than 120 country radio stations nationwide, every night from 7PM to midnight. He plays the best new country music and interviews today's top stars, like Luke Combs, Miranda Lambert, Dan + Shay, Keith Urban, Carrie Underwood, Luke Bryan, Chris Stapleton, Lady A, Morgan Wallen, + more! 
Pictures: Carrie Underwood's Denim & Rhinestones Tour Visits Nashville
See Inside Carrie Underwood's Nashville Mansion
Carrie Underwood
and husband Mike Fisher sold their 7,000-square-foot Brentwood, Tenn., home for $1,410,000 in March of 2019, and pictures reveal a spectacular mansion worthy of one of country music's biggest stars.
Top 50 Carrie Underwood Songs — Her Greatest Hits and Best Album Cuts
Carrie Underwood's best songs and biggest hits, ranked by fans, Taste of Country staff and industry experts, with additional consideration given to commercial success and live performances. These are Carrie Underwood's Top 50 songs!