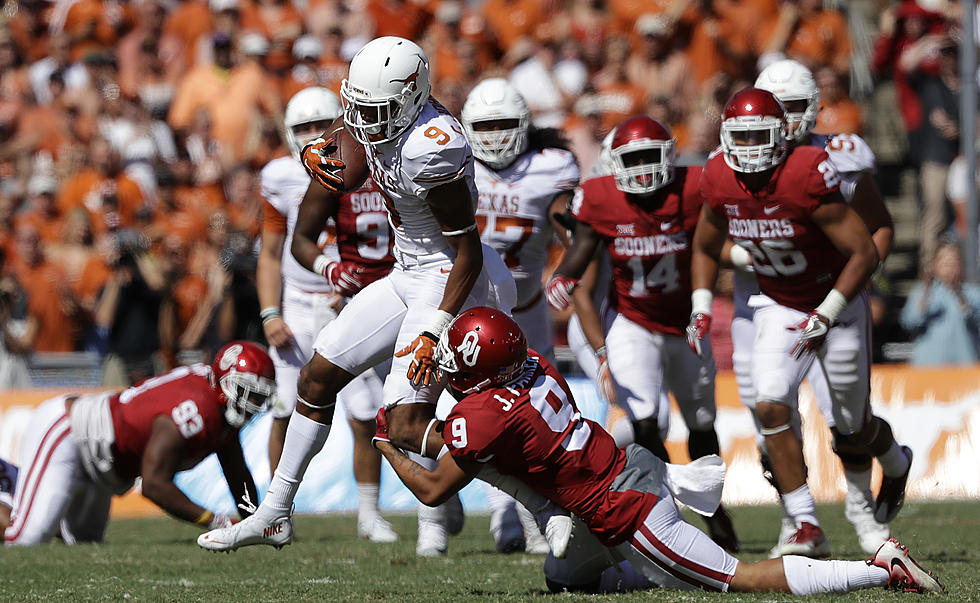 Texas Oklahoma walking out puts the Big 12 on Life Support
Getty Images
Yesterday the folks over at the University of Texas and Oklahoma made a statement walking away from the Big 12. One of the lines caught my attention. As a fervent Texas Longhorn fan I do bleed burnt orange, Chrismon and Cream and Maroon are colors that to me are treasonous. So when you see basically the two biggest dogs in the big 12 put out a line like this, you pay attention
both universities will continue to monitor the rapidly evolving collegiate athletics landscape as they consider how best to position their athletics programs for the future.
With that statement, both the Longhorns and Sooners basically gave the 2 weeks notice to the Big 12, But it's so much more than that. The Big 12 hasn't exactly been in a good place since Aggie left a few years back either and basically the conference is a zombie walking searching for whatever bodies it can find to sustain itself at this point.
So How Did We Get Here?
For the Longhorns and Sooners to become bedfellows in a move is strange because the two rival schools have had issues in the past over the Longhorn Network, an venture between UT and ESPN that pretty much left out the rest of the Big 12 and a contention point for both teams in dealing with Big 12 Television rights in the past. But in my opinion it gets to the point where you start looking around at the company you keep and for Texas and OU, the room just isn't looking good anymore and the draw of playing teams like Alabama, LSU and for the Longhorns a return to an A&M rivalry are just too good to pass up. Money wont be an issue since both schools are staying on until their rights with the Big 12 expire in 2025 saving them roughly 80 million in penalties to start.
So What About the Rest Of The Big 12?
I mentioned this earlier, The Big 12 got its 2 week notice on this basically. each of the affected schools has issued some form of statement saying they plan on moving forward and that the conference looks bright and everything is going to be just fine. Even the Big 12's own stance on the subject tries to paint a nice rosey picture of the future:
"Although our eight members are disappointed with the decisions of these two institutions, we recognize that intercollegiate athletics is experiencing rapid change and will most likely look much different in 2025 than it does currently," stated Commissioner Bob Bowlsby.  "The Big 12 Conference will continue to support our member institutions' efforts to graduate student-athletes, and compete for Big 12 and NCAA championships.   Like many others, we will use the next four years to fully assess what the landscape will look like in 2025 and beyond.  The remaining eight institutions will work together in a collaborative manner to thoughtfully and strategically position the Big 12 Conference for continued success, both athletically and academically, long into the future."
My biggest question to Bob Bowlsby is how are you going to pull off this feat? Your two biggest schools just walked out the door and big replacements aren't exactly clamoring to come in. There's talk about trying to bring in Houston or Boise State and anytime you talk conference realignment in the west BYU always comes in but it's restrictions on Sunday play are always a thought.
I'm calling it now... The Big 12 is dead conference walking... 
There is no future for any of the 8 remaining teams with the Big 12. You would need a big indie like Notre Dame to come in and save the day but that's not happening.
The Big Ten and Pac 12 need to Act Fast
If you're a Big 12 school, your other nightmare is becoming a group of 5 member. Your biggest hopes as a Red Raider or a Poke is to become a member of either the Pac 12 or the Big Ten. I see the end of the Power 5 and the start of the Power 4 with 16 Team Big 10 and Pac 12 conferences. Bring TCU and K-State and you can create an east division with former Big 12 member Colorado and with Arizona, Arizona State and Utah rounding out a new east division. Of course they could go to the Big 10 and deal with Nebraska too..
Now this can all go away too. 2025 is still 4 years off and for TV and college sports that's an eternity. Even if they can save the Big 12 before then it's just a matter of time before the chatter starts up again.
LOOK: 50 images of winning moments from sports history
Sometimes images are the best way to honor the figures we've lost. When tragedy swiftly reminds us that sports are far from the most consequential thing in life, we can still look back on an athlete's winning moment that felt larger than life, remaining grateful for their sacrifice on the court and bringing joy to millions.
Read on to explore the full collection of 50 images Stacker compiled showcasing various iconic winning moments in sports history. Covering achievements from a multitude of sports, these images represent stunning personal achievements, team championships, and athletic perseverance.
Say You're From Amarillo Without Saying You're From Amarillo
Amarillo is a pretty quirky place. We've got the Big Texan, the weird signs, and (obviously) the famed Cadillac Ranch. But more than that, there's a distinct culture of close-knit community, eccentrics, a thriving arts scene, and much more.
The point is, living in Amarillo is a unique experience. Because of that, it's really pretty easy to tell who's a native or a long-time resident. And I can prove it.
Here's a couple of ways you can say you're from Amarillo.....without saying you're from Amarillo.
The Eerie Abandoned Puckett Place Apartments of Amarillo
The Puckett Place apartments at 3447 Amherst St. have been a vacant and in disrepair for well over a decade. The building has finally been slated for renovation and at long last, Puckett Place will see a new life.
In the meantime, here's a glimpse at the strange and derelict beauty that is the abandoned Puckett Place.