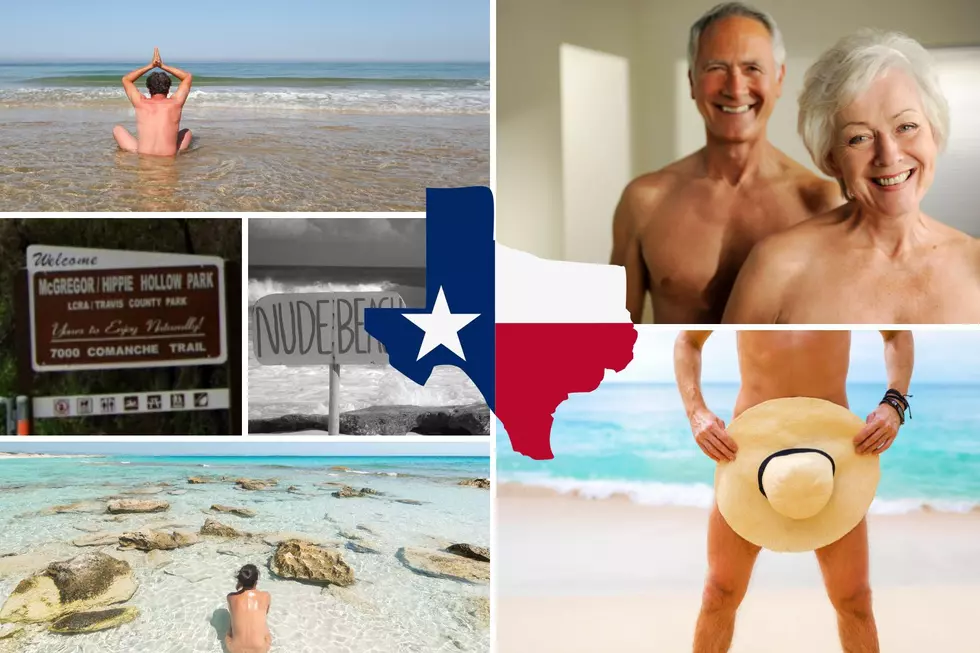 The Naked Truth: Best Nudist Camps In Texas
TSM Amarillo/Google Maps
I must be living in my naïve bubble because I didn't realize just how many nudist places existed in Texas, and Texas has a lot.
Before we start I just wanted to help define the places we are exploring,
---
a person who engages in the practice of going naked wherever possible.

---
Texas is full of nudist resorts, colonies, ranches, parks, and beaches.  I just didn't realize how many.  I didn't realize there were that many people in the Lone Star State who love to let it all hang out.
Oh, and the most fascinating part is a large majority of these places are near Dallas. I thought Austin, maybe the Gulf Coast, but no, DFW.
Here are a few areas to visit if you're looking to become a nudist or experience the lifestyle.  Don't worry, I wouldn't post anything not safe for work.  I tested the links before posting just to make sure.  However, your business may block them anyway because of the word, nude, heck, this article may be blocked.
Wildwood says that they are a "family nudist club where Texas hospitality is a way of life!"  In their FAQ section, they state that "clothing is only allowed for adverse weather conditions or health reasons."  So this particular place is fully nude.    They host a Skinnydipper 5k.  They also offer fun activities including game days, dances, pool tournaments, bunco, and potluck suppers.
Barehide is located just outside of Ft. Worth, Texas.  Barehide is "a private club of lifestyle & nakedness." This club is only for 18+ visitors.   They have Saturday night Dances, Water Volleyball, Darts, Board Games, etc.  They do not accept unannounced visitors.
Here's another park just outside of Decatur.  Bluebonnet is a "family-oriented nudist park." For this particular park, males are required to be nude, females may wear shorts and cover-ups. Why must males be nude? This is an older club and apparently in the past, "creepers" would come out.  With the male nudeness requirement, it weeds out the "creepers."  I guess the thinking is, that if they are willing to be nude, they are there for the lifestyle, not the creep factor.  Activities include games, potlucks, golf cart races, horse races, movies, and more.
They call themselves the "friendliest little family nudist club in Texas."  They have a guide for a first-time visitor.  Plus they are all about providing a safe environment for all ages.  It is a clothing-optional environment. They host a ton of events, including Wine and Cheese socials, poolside breakfasts, karaoke, water volleyball, pickleball, 5k Races, dances, and more.
Hippie Hollow is a part of the Travis County Parks.  It is 18+ park.  Hippie Hollow Park is "the only clothing-optional public park in Texas."  It's also off the shoreline of Lake Travis.
These are just a few of the nudist clubs, resorts, ranches, etc in Texas.  Most listed are near Dallas.
This seems to be a pretty common lifestyle.  I'm all for you do you, if you love letting what God gave you hang out, I say go for it.
But on a serious note, I love how all of these clubs embrace body positivity, it doesn't matter if you're thin, chunky, tall, skinny, built, full of muscles, groomed, not groomed, perky, or saggy, you are accepted for you.  They are a no-judgment zone.
It's quite possible, that once you take the clothing factor away, you might just find a different person emerge, a more free person.
Naughty Nicknames for 21 Texas Towns
Texans simply do not hold back when it comes to nicknames, so here's a warning now if you have delicate sensibilities. Some of these names are pretty brutal, perhaps undeserving. Others, well...they walked right into it.
[carbongallery id="156:427797"]
Six Reasons Why Texans Are the Most Polite
Texans have a unique set of manners. In fact, in some recent studies Texans have been called some of the politest people in the nation.
Here are some of the best examples of good Texas manners.