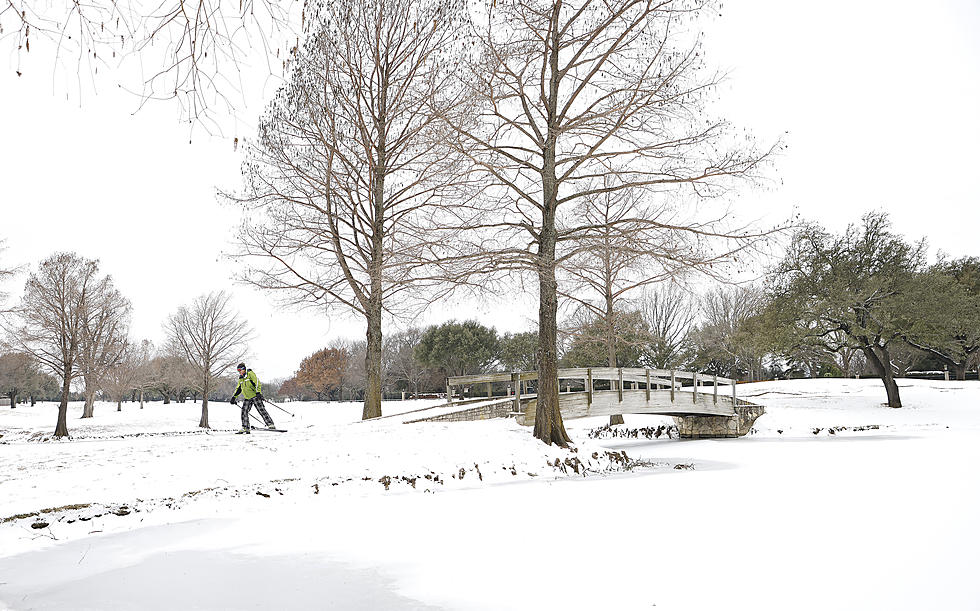 What Is Going On With Amarillo Weather? It's Completely Bipolar Right Now.
Getty Images
Moving around as much as I have in life has exposed me to many different climates.
I've dealt with pretty much everything. Hot & humid. Dry & hot. Cold and bitter.
I've even dealt with rapidly changing climates to where it's sunny and 60 one hour, then the next it drops to 30 and snowing.
But I don't know that I've ever lived in a place quite like Amarillo where every day is a literal guessing game. At least that's what it feels like it's been lately.
I decided to dig into this a little and see if it's normal for the city to experience such mood swings from Mother Nature. I was able to pull up the historical data from February 2021 as well as what it's been each day in February 2022. I also took a look at the predicted temps for the rest of the month.
FEBRUARY 2021
So last year from what I see looked relatively normal, in a loose sense of the word. It definitely had its highs and lows, dropping as low as 7 degrees for a high on February 15th and topping out at a Florida like temp of 79 degrees on February 3rd.
To have a 72 degree swing in the course of a month is definitely a bit different, as in not overly normal, but the weather trended made a whole lot of sense.
After that balmy 79 degree day on the 3rd, Amarillo experienced a gradual drop in temps over the course of the next 4-5 days. By February 9th, we found ourselves sitting at 36 degrees. That was the moment winter seemingly set in as we'd sit at or below freezing for the next nine days.
By February 19th, the city would get back above freezing and gradually get warmer for the remainder of the month.
All in all, it seemed like it was a pretty normal kind of weather pattern.
FEBRUARY 2022
So while I get that we're only in the 9th day of the month at the writing of this article, we've already seen a massive mood swing in the temperature here.
Go back to January 31st when it was a very nice and comfortable 67 degrees. I mean, you could be outside grilling in that kind of weather right?
Well February kicks off and it suddenly drops 20 degrees and we find ourselves sitting at 47 degrees. February 2nd watches us lose another 15 degrees dipping down to a freezing temp of 32 degrees.
That's when all hell broke loose. Snow rolls into the city, ice starts forming all over the place and on February 3rd, we've got thousands of frozen pipes as the "high" was a balmy 12 degrees.
That's right, in the course of just 3 days, we watched the temperature drop a staggering 55 degrees. It busted some pipes here at our radio stations, and it personally froze about half the pipes in my house. Thankfully, none of ours burst at home.
Surely we're headed for that cold stretch we saw last February right? Try again. A jump of 22 degrees to a high of 34 starts to melt the snow already. Snowmen disappeared as fast as they showed up.
Another day later? Sure, let's jump up another 21 degrees to a high of 55. So in just two days time, the snow is basically completely gone (minus shaded areas) and we gained back 43 degrees from the pipe freezing tundra temps.
So what's the rest of the month showing for predictions? How about just two days in the 40s, seven days in the 50s, another seven days in the 60s and even a day touching the 70s. Didn't Punxsutawney Phil tell us just a week ago we had an extra six weeks of winter coming?
Bipolar I tell ya, the Amarillo weather just doesn't know who they are.
20 Striking Photos From Across Texas During Winter Storm Uri
Texas was hit hard by Winter Storm Uri, a polar vortex which led to millions being without power for days in constant freezing temperatures. These photos show the good, the bad and ugly of the crisis.
Tornado and Wall Cloud Pictures From Monday, May 17th, 2021