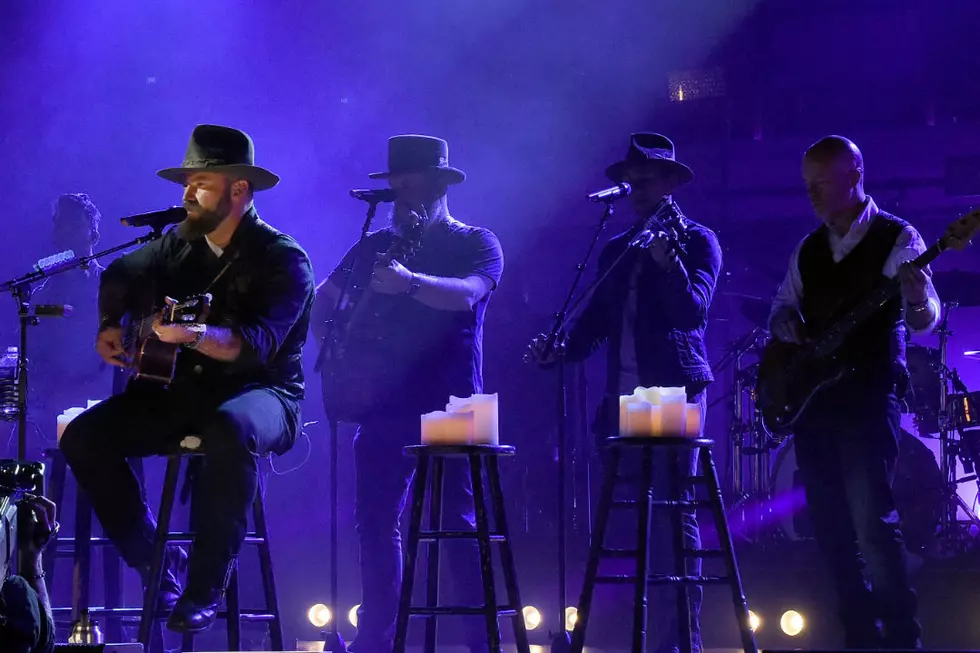 Everything We Know About the Zac Brown Band's New Album, 'The Owl'
Rick Diamond, Getty Images
In late 2018, Zac Brown Band hinted that a new album was in the works -- "There's a lot more to come," the band said at the time -- but it took until late July for fans to learn more. That's when the band officially announced their forthcoming project, The Owl.
Due out in September, The Owl is Zac Brown Band's sixth major-label studio album. Read on for all the details on the upcoming project.
The Title
Zac Brown Band's new album is titled The Owl.
"Owls are one of the mythical kind of creatures -- we even had one at a photo shoot, and just being next to one and seeing one, they just seem otherworldly to me," Brown tells Billboard. "They're just like a magical thing, symbolizing wisdom and foreshadowing. But I have kind of a kinship to them. I don't know what it is, I'm just really drawn to them. I've got three owls tattooed on me, actually."
The Release Date
The Record Label
Welcome Home, Zac Brown Band's last album, was released via Elektra Records, but for their next project, the ZBB have partnered with BMG / BBR Music Group's Wheelhouse Records. Says Brown, "We've always approached our work and music in our own way, only doing what feels right for us. We're excited to have BMG as a new partner; they understand our vision and sound and will help shape this next chapter in a way that's uniquely ours."
The Album Cover
The album cover for The Owl features the Zac Brown Band, seated and standing, in a foggy forest setting. At the center of the show is Brown, holding an owl.
The Producers
Whereas ZBB's previous album, Welcome Home, was produced by Dave Cobb, The Owl features work from a wealth of producers and writers. A press release reports that Jason "Poo Bear" Boyd, Ryan Tedder, Skrillex, Andrew Watt, Max Martin and Benny Blanco, among others, are involved.
The Single
On Nov. 9, 2018, the Zac Brown Band dropped a brand-new single, "Someone I Used to Know," co-written by pop star Shawn Mendes, with whom they shared a 2018 episode of CMT Crossroads. The pop-infused track takes a turn from the band's traditional country spin and pulls in a sitar chorus line and finger snaps.
"It's been a long time comin' / Couldn't keep on runnin'," Brown sings. "Had to hit rock bottom to know / When you keep on losin' with the path you're choosin' / Then it's time to let go / Of someone that I used to know."
"Someone That I Used to Know" was the first taste of ZBB's new music. "This is an exciting time for us," Brown said in a press release when the song was released. "We're ... really proud of "Someone I Used to Know." It's a special track and is just the beginning."
The Songs
"We've been working tirelessly on this album over the past couple years, ensuring every detail is perfect," Brown says of The Owl. "We are always pushing ourselves as musicians by blurring genre boundaries and incorporating all kinds of music we are personally inspired by, elevating what we are capable as a group. This album will have something for everyone."
Billboard reports that The Owl will include a number of intensely personal songs, including some inspired by Brown's 2018 divorce from his wife of 12 years, Shelly. "There's some really personal songs on the record, and some other ones that are pretty heavy. Then there's some other ones that aren't," Brown shares.
"There's some songs that are so personal and so real that some of them I couldn't even imagine having to play six months ago when we were writing them," he adds. "There's some songs that we wrote and perform that still just tear me up."
Zac Brown Band, The Owl Track List:
1. "The Woods"
2. "Need This"
3. "OMW"
4. "Someone I Used to Know"
5. "Me and the Boys in the Band"
6. "Finish What We Started" (feat. Brandi Carlile)
7. "God Given"
8. "Warrior"
9. "Shoofly Pie"
10. "Already on Fire"
11. "Leaving Love Behind"
The Tour
How Well Do You REALLY Know Zac Brown?
All of the Zac Brown Band's Singles, Ranked