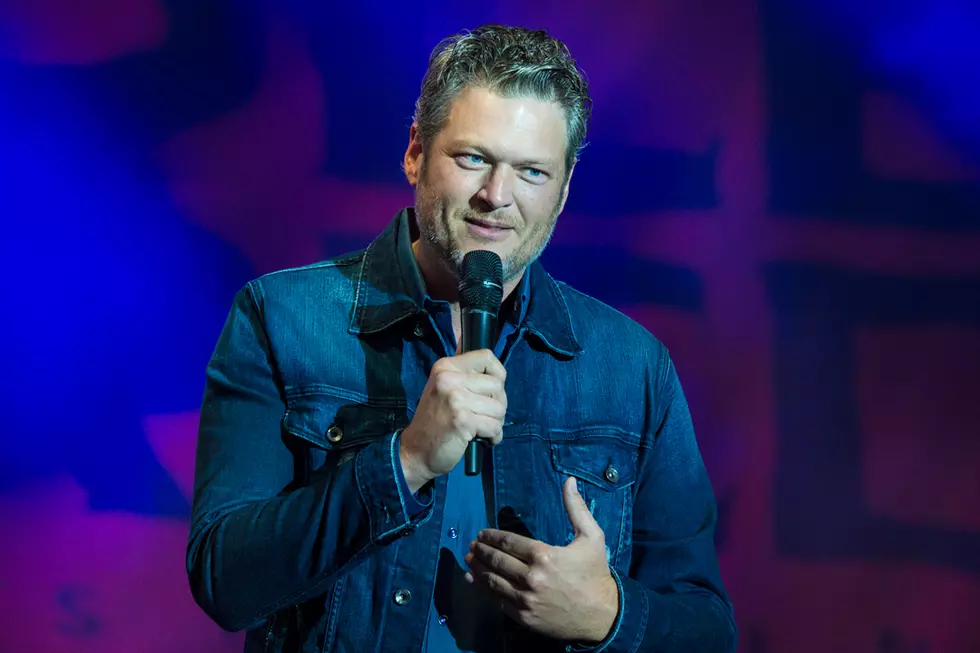 Blake Shelton Reveals 'Texoma Shore' Track Listing
Erika Goldring, Getty Images
Shelton once again worked with producer Scott Hendricks for his 11th studio album. Texoma Shore features contributions from some of the top songwriters in county music, including Ben Hayslip, Josh Osborne, Craig Wiseman, Dallas Davidson, Ross Copperman, Rhett Akins, Ashley Gorley and more. Shelton himself co-wrote a song titled "Turnin' Me On," but in a press release, he says there was one song in particular that inspired him so much that it sums up the whole project.
"'At the House' is, I think, part of the reason I decided to name the album Texoma Shore," Shelton says. "I was spending a lot of time this past summer out on Lake Texoma. There was one week in particular where it was just [girlfriend] Gwen [Stefani] and I out there just basically hanging out. We finally had some time off, so we went out on the water every day, went back up to the house every night and just had one of the greatest times of my life. We were listening to this song and relating to it and realizing, 'Man, this is one of those summers that we're always going to remember.'"
Jamie Moore and Craig Wiseman co-wrote "At the House," which is the second song on the album after "I'll Name the Dogs." Shelton will premiere the track live during an appearance on The Tonight Show Starring Jimmy Fallon on Oct. 30.
Three Times Gwen Stefani Shaped Blake Shelton's New Album
"I'll Name the Dogs" is already closing in on the Top 10 just six weeks after its release, and it's received more than 11 million live streams online. Shelton has marriage in mind on the fun song, and he touched off more speculation as to whether he and Stefani might be headed down the aisle when he included her sons in the video for the song, in which he is performing at a wedding.
Songwriter Ben Hayslip says Shelton didn't bat an eye at the song's subject matter.
"He is such a high-profile guy, you're always aware of Blake's situation, whatever it is," Hayslip tells Taste of Country. "Our job is to not write something he won't say, or write something totally against the situation he's in. I don't know that we talked a lot about trying to make this song about him and his relationship, but we just wanted to make sure that we don't do anything to turn him away. He's a TV star; he's a big, huge name and a big star, and when you get to that point, sometimes there's things you can't say and certain things that you don't want to say."
Texoma Shore is set for release on Nov. 3. The album is currently available for pre-order on iTunes, and fans who buy it in advance will receive an instant download of "I'll Name the Dogs."
Blake Shelton, Texoma Shore Track Listing:
1. "I'll Name the Dogs" (Matt Dragstrem, Ben Hayslip, Josh Thompson)
2. "At the House" (Jamie Moore, Craig Wiseman)
3. "Beside You Babe" (Abe Stoklasa, Mark Trussell)
4. "Why Me" (Ashley Gorley, Dallas Davidson, Ross Copperman)
5. "Money" (Craig Wiseman, James Bailey, Ryan Ogren)
6. "Turnin' Me On" (Blake Shelton, Jessi Alexander, Josh Osborne)
7. "The Wave" (Josh Osborne, Ross Copperman)
8. "Got the T-Shirt" (Matt Jenkins, Jessi Alexander, Chase McGill)
9. "Hangover Due" (Craig Wiseman, Matt Dragstrem)
10. "When the Wine Wears Off" (Ashley Gorley, Rhett Akins, Ross Copperman)
11. "I Lived It" (Ashley Gorley, Ben Hayslip, Rhett Akins, Ross Copperman)
This Is What Blake Shelton Was Thinking on Each of His Album Covers