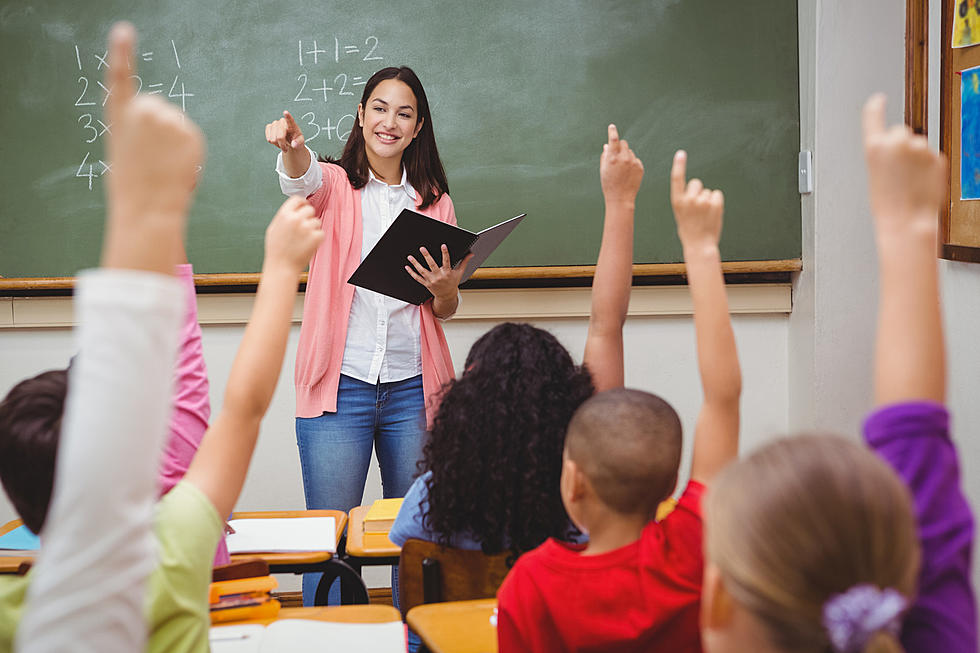 Texas is One of the Best States in the Country for Teachers
Wavebreakmedia
Texas our Texas all hail our mighty state...is a great song lyric.
Texas is a mighty state and Texans are a different breed.  They are very loyal to the state they were born and raised, or transplanted into as soon as they could get here.
It's also a great place to work.  One of those jobs that is much needed in Texas is that of teachers.  Our children need great teachers in their lives to teach them the lessons they need to know to become great leaders.
As with any other place in the country, the Texas Education system doesn't come without its problems, and in recent years it has been a battle.   More and more teachers are leaving the profession because new laws and rules keep their hands tied.
In the midst of all the struggles with the education system, Texas, is still one of the better states in the country for teachers.
Education jobs across the country were found to be some of the lowest-paying occupations requiring a bachelor's degree.  According to WalletHub, teachers are earning $3,644 less per year than teachers 10 years ago.
In all reality, taking care of our teachers and making it easier for them to teach should be the main priority of every single state in this country.  If quality teachers are quitting and the job pool for good teachers is thin,  our children will begin to lack quality education.
Where are the best states for Teachers?
WalletHub conducted a study to find the best states for Teachers.  Texas ranked #14 for the Best States for Teachers.
Texas ranked #1 for starting salaries for teachers, however, the state came in last for income growth potential.  Compared to all the states Texas did rank #13 for salary for teachers.
Teacher-Friendliness of Texas (1=Best; 25=Avg.):
1st – Avg. Starting Salary for Teachers (Adjusted for Cost of Living)
13th – Avg. Salary for Teachers (Adjusted for Cost of Living)
28th – Quality of School System
30th – Pupil-Teacher Ratio
46th – Public-School Spending per Student
49th – Teachers' Income Growth Potential
16th – Projected Competition in Year 2030
17th – 10-Year Change in Teacher Salaries
1st – Existence of Digital Learning Plan
It's obvious that our education system does need an overhaul and hopefully one day we as a state will see a better education system for both our teachers and students.
What state tops the list for Best State for Teachers?
Virginia
No matter where the states land, the one thing we should all do is thank our child's teachers. Each day when they enter the classroom they do their best to make sure their students are receiving the best education they can give.  It is a tireless profession and if our teachers didn't care about their students, they wouldn't be teaching.
Thank you, Teachers!
Texas' Top 10 Most Expensive High School Football Stadiums in '23
There's a reason every good high school football movie is based in Texas. Here in the Lone Star State Friday nights are revered and our young men in football pads exalted to legends in their hometowns.
Check Out the Best-Selling Album From the Year You Graduated High School
Do you remember the top album from the year you graduated high school?
Stacker
analyzed
Billboard
data to determine just that, looking at the best-selling album from every year going all the way back to 1956. Sales data is included only from 1992 onward when Nielsen's SoundScan began gathering computerized figures.
Going in chronological order from 1956 to 2020, we present the best-selling album from the year you graduated high school.
Teachers of the Texas Panhandle Behaving Badly
Some of the more salacious secrets of the Panhandle seem to lurk within our schools.