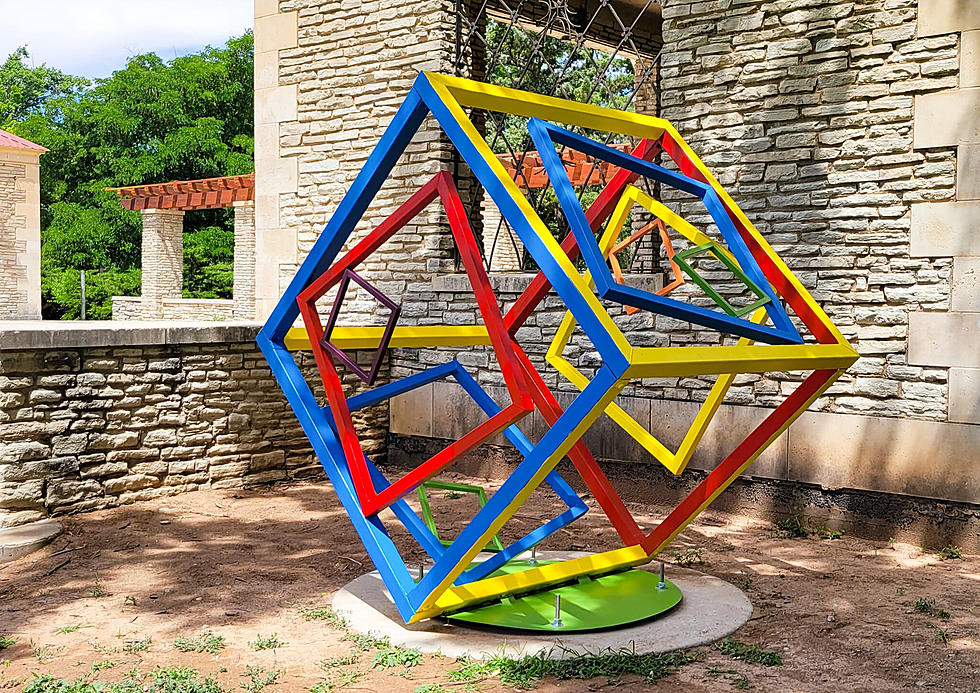 Amarillo Park Sculpture Destroyed But Coming Back Better than Ever
Photo Courtesy of Jacob Breeden
Having a city with amazing art, culture, and creativity is a wonderful thing.  It opens a city up for more tourism, businesses, and new citizens.
Back in 2022, the Amarillo Parks and Recreation Department put together a plan to team up with local Amarillo artists to showcase their artwork in the city parks.
Arts in the Parks
Concrete foundations were installed in 8 parks around Amarillo, including Sam Houston Park, Thompson Park, Rick Klein Park, Memorial Park, John Stiff Park, El Alamo Park, and Bones Hook Park.
Jacob Breeden, a long-standing artist in Amarillo, created a metal sculpture he titled Don't Be Such a Square as part of the initiative. It was placed in Sam Houston park and unveiled on June 14, 2022.
One month after its installation, the sculpture was partially broken. Then, three after that, more damage was caused to the looming piece of art. Finally, in March, the welded steel work of art was knocked completely off the base.
The fact that the giant cube had been completely dismantled is concerning.
Jacob Breeden created this piece knowing that it would be climbed on, pulled on, and sat on, by those having fun at the park.
I had climbed all over it myself just to make sure it was safe. I anticipate these things. I build big playthings. A lot of the core kind of construct behind my work is toys and playground equipment and the ideas behind those, kind of modified into fine art.
Something to keep in mind is that these projects are not funded by the City of Amarillo. While the City placed the concrete base for said artworks, that is the extent of the funding. These partnerships are carried by the hands of the sculptor; the cost of the sculpture, the supplies, the equipment, and all the other little things come out of the pocket of the artist. This also includes the cost of repairs.
Despite the destruction of his wonderful cubic creation, Jacob Breeden is undefeated. He plans to revise and modify the gigantic work of art to be more durable and withstand heavy-force impact.
You Can Easily Be Part of 'Arts In The Parks'
Become the change you want to see in the world around you. You can help mold Amarillo into a thriving place with public artworks. And you can do this in simple ways.
Talk with the artists, find out what they need, and help. It could be a monetary donation. If you have equipment that can be donated for use like forklifts, then reach out to Jacob and the other artists in Amarillo. Some of these pieces are heavy and massive and have to have heavy equipment to move them. If you have supply items that could be used to create these sculptures then donate them. If you have ideas on how to better fund the arts in our area, get involved.
I'm open to anybody who has an idea for how we fund these you know, I'll do my part I'll donate as much of my labor as I can. I'll negotiate discounts for materials. There's a billion ways that a collective could make this go.  There's just not you know, where that's been built up in the mural universe. It doesn't exist for (sculpture) and it's not just Amarillo, you know, sculptures always kind of been the weird kid of the art world.
Jacob is currently working on another park art project for the Thompson Park Pool.
It will be a tall sculpture of an abstract figure launching off the diving board with the sunset in the background. Jacob hopes to have this piece done by the end of the summer.
Art is a beautiful form of expression in all its forms and when we can have that in our city, it makes it that much richer.
You know, if we can, the more walls we can paint, the more pedestals we have to put things on, and the more people can use their voice. And that to me is the sort of imperative component of this,  art is just an amplifier to amplify as many voices as possible.
Jacob Breeden will be featured in a gallery exhibition.  It is called (Art)ificial New Art & Stuff.  It will be held at the Invisible Genie, 231 SW 7th, on Friday, April 7th at 7pm.  The public is invited to attend.
Jacob is also currently working on a project for the Glastonbury Festival this summer.
The Incredible Murals You'll Find In Amarillo
Amarillo is full of astonishingly beautiful artwork in the most unlikely places. Check out our collection of the hidden gems you'll find around town. Some, you'll recognize from Downtown and others you might have to go hunting for.
All the Pretty Horses of Amarillo's Hoof Print Project: DOWNTOWN
The Hoof Print project was started in 2002 by the non-profit organization Center City as a way to beautify the city and raise funds.
Beautiful Murals by Blank Spaces Found Around Amarillo
The student-led art group, Blank Spaces, is paving the way. The WTAMU group has worked tirelessly to create a number of stunning murals for several places in the Amarillo area. Check them out!