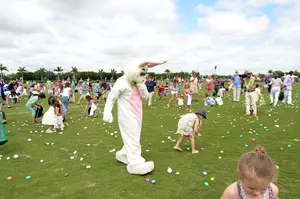 Easter Egg Hunts In Amarillo 2016
Gustavo Caballero
Easter is just around the corner and if you are looking for the fun, there are plenty of Easter egg hunts in Amarillo.
Easter is March 27th and that means that there are going to be lots of fun happening for the entire family.  Here are a few of the Easter Egg hunts happening around town.
Easter Egg-citement
The Amarillo Zoo is hosting their annual Easter Egg-citement.  Kids can visit treat stations and get Easter eggs filled with candy and goodies from costumed characters. You can also take your picture with the Easter Bunny! Plus, don't miss an egg-cellent display of eggs from around the world- including a giant egg from the elephant bird- and have a hoppin' good time at the game and craft areas. And you can watch the animals enjoy their very own Easter baskets filled with special treats. All that plus kids can see and touch live Easter bunnies! Happens March 26th, 9:30 am  -3pm  and costs $5 per person.
DHDH Eggstravaganza
The Don Harrington Discovery Center is hosting a huge Easter celebration of mind-bending fun with everything related to eggs! There will be all kinds of EGGTIVITIES and an EGG SCRAMBLE! Each age group will scramble for brightly colored, candy or toy-filled eggs at a scheduled time:
10:00 am- 2 years and under
10:30 am- 3 to 5 years
11:00 am- 6 to 8 years
11:30 am- 9 to 12 years
$8 for members, $11 for non-members.  Prices are for children 12 and under. Chaperons are free.  It happens March 26th from 9:30 am to noon.
Make it Special Easter Egg Hunt
Make It Special's 2nd Annual Easter Egg Hunt Party happens March 26th from 10am-11am at John Stiff Park.  You will get to meet some popular princesses and superheros! Kids are $5 (you must purchase a ticket for any kids who will be participating in the hunt and/or other activities) and adults are free. $5 covers ALL activities. There will be bounce houses, the cutest bunnies, glitter tattoos, and of course Easter egg hunts! Plus, this year there are at least a dozen GOLD EGGS with prizes valued at $20+ from Bahama Bucks, Get Gussied Up, CB Boutique, Chick-fil-a and more!
Epic Easter Egg Hunt
'Your Summit Church' is hosting a free community wide Easter egg hunt.  It happens at Conner Park in Canyon.  There will be multiple age brackets, 10,000 eggs with BIG PRIZE EGGS, inflatables, horse rides, and more. Egg Hunt times for each age brackets:
2:15 -- 2yr - 3yr old
2:30 -- 4yr - 5yr old
2:45 -- K - 2nd Grade
3:00 -- 3rd - 4th Grade
Trinity Fellowship Easter Egg Hunt
Saturday March 26th, Trinity Fellowship North Campus,503 E Willow Creek Dr, will be hosting an Easter Egg Hunt.  It begins at 11am.
I'm sure there are way more hunts happening around the Panhandle.  If you know of any, feel  free to share.  Happy Easter.