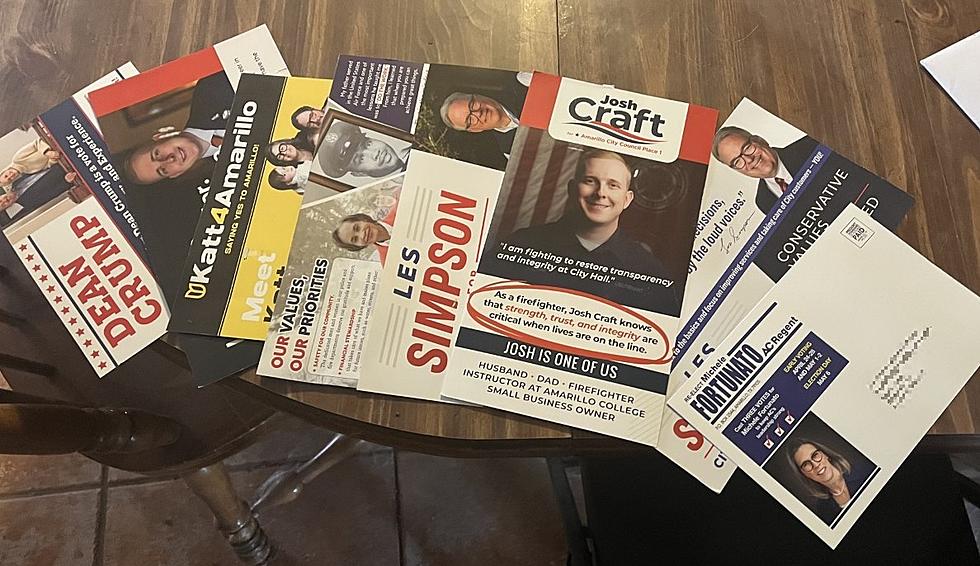 Amarillo Voters Frustrated by Massive Amounts of Political Mailers
Lori Crofford/TSM Amarillo
You know it is election time in Amarillo when your mailbox is filled with a million political mailers.
Early voting has started in Amarillo, and election day is on Saturday, May 6th.  It seems that every single person running for an office whether it be Mayor, city council, school board or I'm the coolest person in Amarillo, has sent out a mailer.
What is a mailer?
A mailer is a marketing item that has a promotional message or call-to-action by a person or business.
Yes, it is a great way to get your name out and what you stand for, and why you are running, but it's horrible for the environment and the number of trees that die for this message.
I understand some people might love getting these in their mailboxes, but for others like myself, it's just a trash can filler or something to torch in the fireplace.  In fact, the amount of these mailers that I have received is enough to start a bonfire.
Most of the voting community already knows who they are voting for, or they get their information by researching.  However, most people just walk from the mailbox to the trash and throw them away, it's wasteful.
It's true that someone might get a mailer and then go to the polls and think, oh this person sent me mail, I'm voting for them.
Why send out a mailer?
We live in an age, where you don't have to waste a ton of paper or postage to get your voice across.  This is the digital age where you can access all ages of voters with texts, emails, and digital ads.  I guess the research shows that a certain age group still only responds to mail (Dear God have I reached that age where I fit that demographic).  I guess it's a way to get in the face of voters when the politicians can't get into their emails or texts.  However, that doesn't seem to stop them from getting my information and showing up in my texts or emails.
Now don't get me wrong, I will be voting, and I have done my research.  My vote will got to those running who I believe will be the best for Amarillo, but rest assured it wasn't because I got a mailer.  In fact, there have been a few that I decided not to vote on because of the massive amount of mailers I received.  If they are wasting this kind of money on these mailers, how much money would they waste on the city or school budget?
How much does sending out mailers cost?
I was curious so I looked up the USPS Direct Mail estimator, just to get a broad estimate.  If one politician sends out just 50,000 flyers the cost of that can reach $25,000 - $50,000.  This estimate doesn't include other companies that handle direct mail and address lists.  Using these types of companies can make the cost less.  Between the City of Amarillo and Amarillo ISD, 30 candidates are vying for a place.  If each candidate uses political mailers and sends them to that many people, that's an obscene amount of money.  That doesn't account for the other advertising costs associated with a political campaign.   Think of the good that kind of money could do for our community besides using it on political advertising.  One could argue, think of the good the politician could do for the community if elected.  Maybe, maybe not, we all have seen where politicians don't keep their promises.
Maybe this is just an irk of mine, but I know I'm not alone.
Books That Use Amarillo or the Texas Panhandle as a Setting
Amarillo and the Texas Panhandle is a great city with great history. When it comes to the literary world, it is always great to see our area represented in books.
Here is a great list where Amarillo and/or the Texas Panhandle is used as a setting or mentioned in a book.
The Price Of Progress: Historic Potter County Courthouse Demolished
As the city leads the way in progress and grows, there is always a cost. Some of our historical buildings have fallen to the wayside. After years of decay and neglect, the only feasible answer tends to be demolition.
And that's what the fate of the old Potter County courthouse seems to be. Demolition of the historic building began February 15, 2023.
Whether the building would have been better served by restoration is an argument for another day. But in any case, it's always sad to see a piece of history be torn down.
Always Prepared: Check Out These Doomsday Bunkers in Texas
I'm not the kind of guy who believes that at any moment the whole of everything is going to go up in flames. If I was, and I had an extreme amount of disposable income, I would want to spend the apocalypse in one of these insane bunkers you can get right here in the Lone Star State.