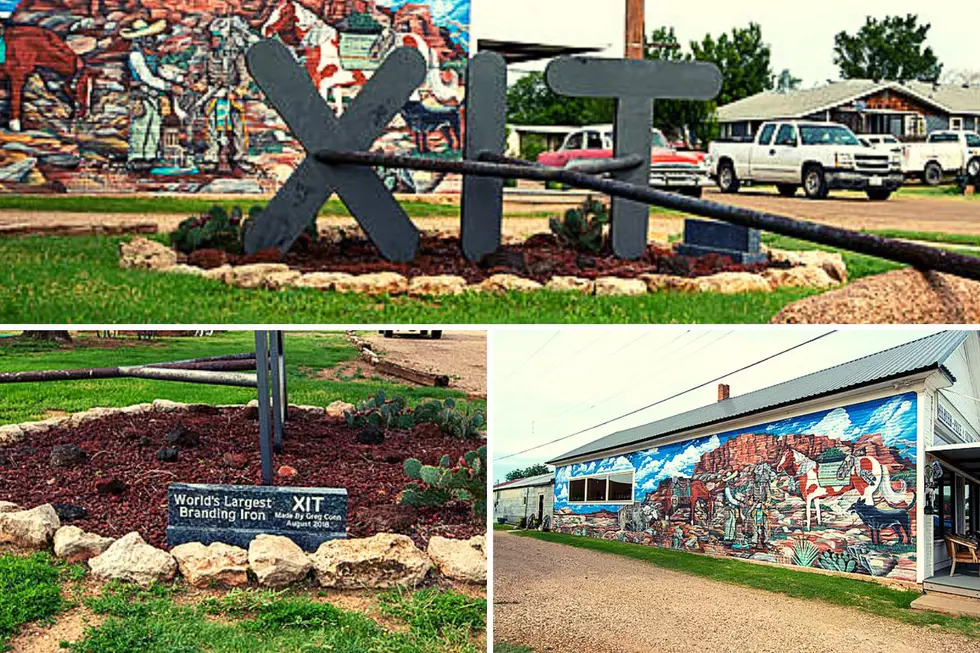 World's Largest Branding Iron is in Vega, Texas
Sarah Clark/TSM Amarillo
If you love to see the World's Largest anything, then you are about 30 minutes away from something spectacular.
Did you know Vega, Texas has the World's Largest Branding Iron?
The branding iron is 22-foot-long, 3,000-pound branding iron with the XIT ranch logo.
A bit of XIT Rodeo and Reunion Site:
There was nothing in the history of the West quite like the XIT Ranch. In the 1880s, it was the largest ranch in the world under the fence, and it sprawled across the Texas Panhandle up from the old Yellow House headquarters near what is now Lubbock, northward to the Oklahoma Panhandle in a crazy strip that was toughly thirty miles wide. At one time, the ranch ran over 150,000 cattle.
The ranch was so large it covered portions of ten counties: Dallam, Hartley, Oldham, Deaf Smith, Parmer, Castro, Bailey, Lamb, Cochran, and Hockley. As a result, some believed the the brand 'XIT' stood for "Ten in Texas". However the brand was designed to thwart rustlers by Ab Blocker, a South Texas trail driver, and B.H. (Barbeque) Campbell, first general manager of the ranch, who apparently once ordered a carload of brown cigarette papers.
The large branding iron was created by Greg Conn in 2018.
Although the branding iron isn't included in the Guinness Book of World Records, hopefully, one day we'll be able to see this amazing piece of art included.
The World's Largest Branding Iron is located at the Milburn-Price Cultural Museum.  The museum is located at 1005 Coke St, in Vega, Texas.
It's said at night, if you stop by to see the branding iron, you'll see the shadow on the side of the museum in this gorgeous mural.
So if Vega has the World's Largest Branding Iron, where's the world's largest cow that would be branded with this, iron?  Is it hiding somewhere on the XIT Ranch?
25 Landmarks of Amarillo and the Texas Panhandle
LOOK: The Enigmatic Art Oddity of Cookie Time
This quirky and whimsical place is tucked away behind a fence off US-287N and Cherry Street. While it may seem like a head-scratcher at first, you'll soon find yourself drawn to the unique and memorable displays at Cookie Time.
The Somewhat Small Towns of the Texas Panhandle
Say what now? Somewhat small?
That's right. These are the towns that seem massive when compared to teensy weensie two-stoplight towns like Pringle (30) or Kerrick (25), but they're definitely not on the same level as cities like White Deer or Panhandle....much less Amarillo.
Buckle up! We've got a places to go and towns to see! These populations are well over 100, but way less than 1000.
All aboard the Somewhat Small Texas Panhandle Towns tour!