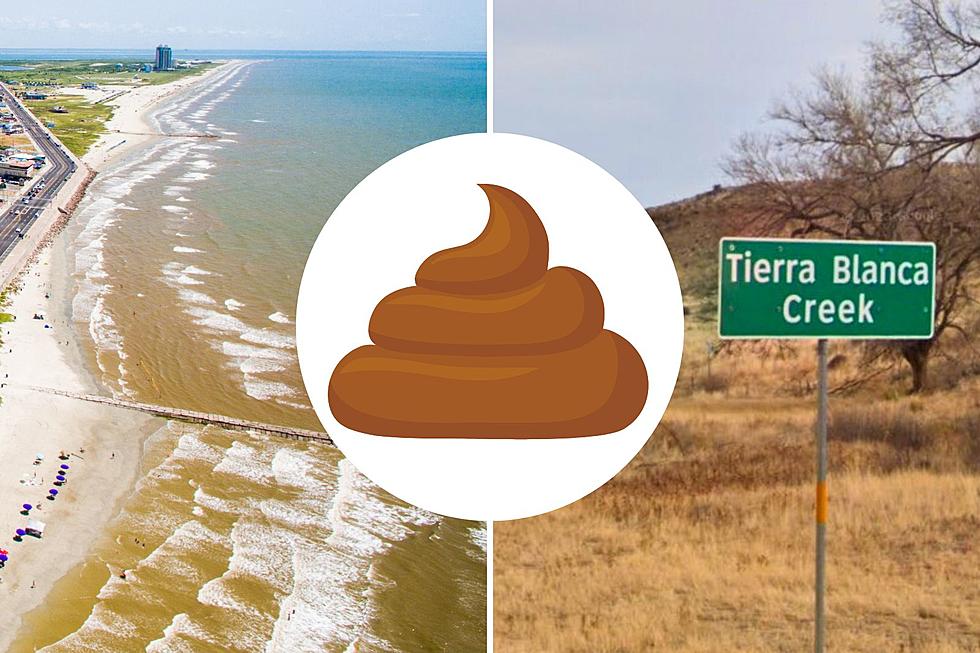 Fecal Floundering: The Poopy Paradise Of Texas
Canva/Google Maps
Let's face it fecal matter or poop, is something most people don't want to talk about.  Yes, poop happens, (yes, it's not poop, but for the sake of bots looking for certain words, poop is the word of the day).
However, when we think of poop, it belongs in the bathroom, in a toilet, or at least in a diaper.  It's a gross topic.
Why are you talking about poop?
Poop is everywhere! Everywhere!  It is not just contained in a sewer or septic tank, it is everywhere.
Let's start with the coast of Texas, where beautiful beaches are located.
According to Environment America, tests were done on 61 beaches in Texas in 2022.  Studies found, 55 out of the 61 beaches tested in Texas contained fecal matter, and 90% of Texas beaches are covered in fecal matter.  The aquatic life in the Gulf will poop in the water.  People who use the beaches have probably pooped in the water, babies, and diapers are found on the beaches and pets probably have done their business on the beach and it wasn't picked up.  That's a lot of fecal matter.
Now fast forward to May/June 2023 in the Texas Panhandle. The over 21 inches of rain in a month flooded areas.  Buffalo Lake, is a lake that closed in the late 70s due to toxicity, drying out, and a damaged dam.  After the rain, it had water once again.  Although beautiful, completely toxic. The Tierra Blanca Creek once dried out, now flowed again. However, those in the area of Tierra Blanca Creek were asked to avoid the water due to contamination. The Randall County Sheriffs posted:
The US Department of Fish and Wildlife has decided to release some of the pressure on the Buffalo Lake dam by releasing some of the water down Tierra Blanca Creek. This water is non-potable to the point of no contact. Any water running down Tierra Blanca Creek is likely to have been contaminated by water that has entered the lake from upstream and will be released from Buffalo Lake.
Why?  Runoffs from the area feedlots. What is in the area feed lots?  Tons and tons of poop!
Unfortunately, fecal matter is everywhere, it's in the water that comes out of your faucets.  Although the city water is treated, not all of it can be removed. Just go to your city's water quality report and look for Coliform Bacteria.  Rest assured there are laws in place to protect the water that comes out of your faucets.
Now that I ruined your day with talk of the poopy paradise of Texas, wash your hands.
[PHOTOS]: Why Are These Scary Dolls Washing Up on Texas Beaches?
Dog Friendly Beaches in South Texas
Poop With A Friend In This 2-Toileted Bathroom House in Indiana
There are just some things that aren't meant to be shared between friends. One of those things, in my opinion, is when you have to go to the bathroom. Sure, going together in a public setting is a little different because there are stalls set in place so you don't have to watch your friend wipe their butt