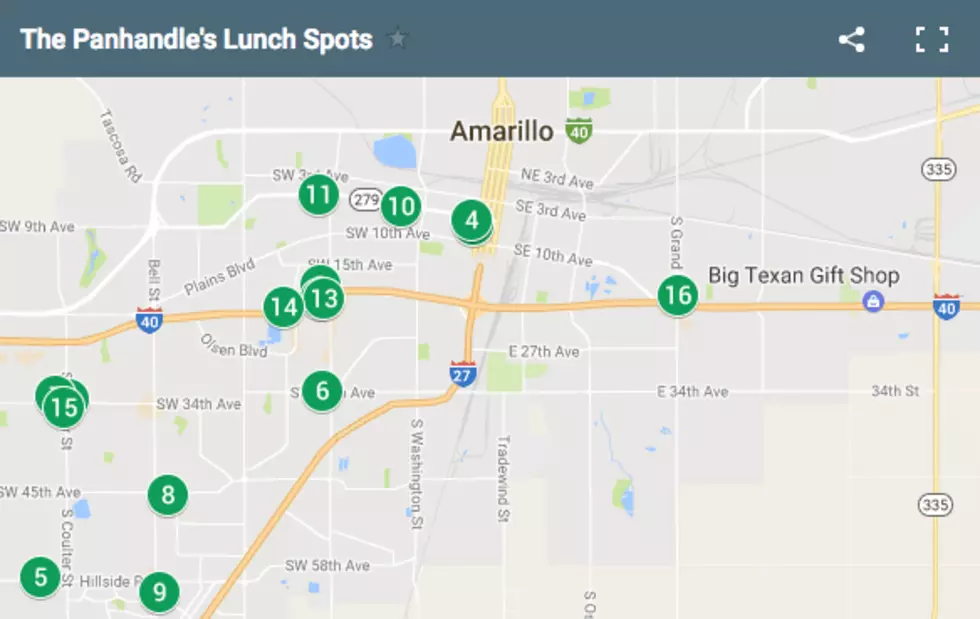 The Panhandle's Best Lunch Spots
TSM Amarillo
Lunch is a great time to get out in Amarillo and see what the city has to offer. There are always great lunch specials and awesome places to 'grab a bite.'
Just like out Happy Hour Map this map gives you all the exclusive lunch spots and specials, check them out below.
1

Monday $5.99 Burgers
Tuesday $5.99 Tacos
Tuesday 4pm to Close Kids Eat Free
Check out the New Game Room
Wednesday $9.99 Pizza and $0.79 Wings
Thursdays $5.99 Tender Sliders
Fridays $9.99 Seafood Combo

2

Monday Thru Friday 11am - 3pm

Menu
Chicken Club Taco $7.50
Baja Fish Taco $7.75
Margarita Chicken Salad $7.75
Smothered Fajitas $8.99
and more!

3

Lunch Specials
Monday Thru Friday 11am - 4pm

6oz LIL' Old fashion $6
Two chicken strips w/ gravy and Texas toast $6
Lunch Steak 6oz Sirloin $11
Chicken Fried Steak $9
and more!