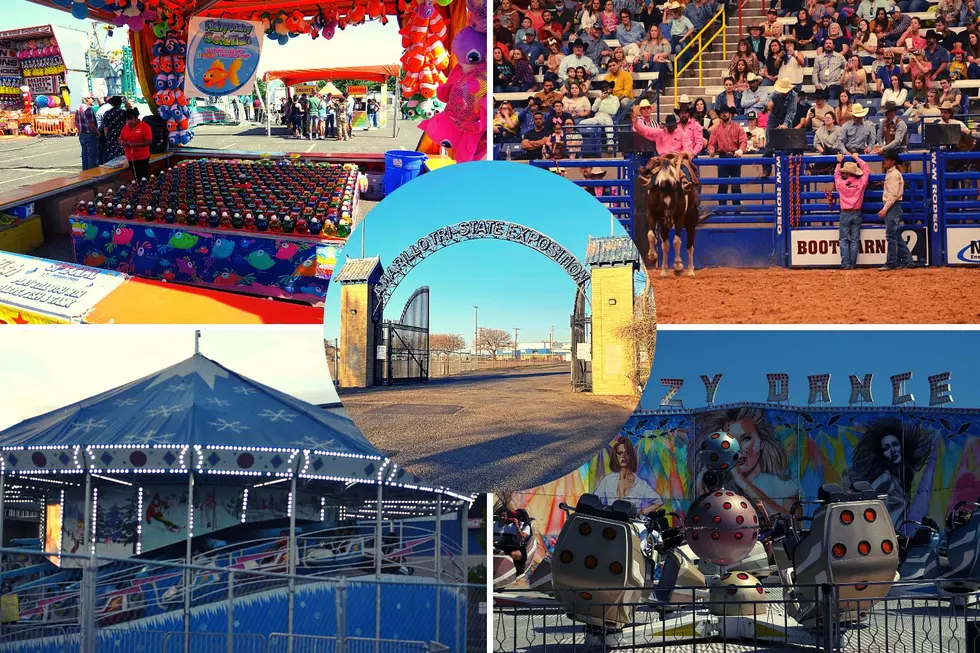 Then and Now: The Amarillo Tri-State Fair
Sarah Clark/Tri-State Fair
The Amarillo Tri-State Fair is always fun to attend.  It's been an Amarillo tradition for 99 years.
You have the food, and let's talk about the food for a bit.  The Indian Taco is amazing, I had one this year and forgot that they are delicious.  They have bacon covered everything.  The corn dogs are on point this year if you like corn dogs.  I don't like corn dogs, so I can't tell you how they taste.  The mini donuts are an unbelievably delicious substitute this year for a funnel cake (that's if and only if you don't want a giant funnel cake).   That's just to name a few of the food items.
You still have an opportunity to win a goldfish.  I saw so many people walking out with fish this past weekend, and someone in Walmart the day after going to the fair trying to find the perfect fish tank and accessories for their new fair fish.
The fair is a fun time and you don't forget the shows, and the rodeo coming up this week.
When you walk into the fair from the main entrance, you see the famous Tri-State Fair Arch.
Did you know that the arch of the Tri-State Fair Grounds and the Tri-State Fair has been in this location since 1924?
The first Amarillo Fair was in 1899 and was called the Panhandle Fair and Livestock show.  However, it didn't quite stick throughout the years.  The Tri-State Fair became a permanent fixture and was chartered on June 23, 1923.  The first Tri-State Fair was held September 25 - 30, 1923.
The land where the Tri-State Fair is held was bought in January 1924 and the arch was placed that same year.
Every time you walk or drive under that arch you are passing through decades of history!  Next year the Tri-State Fair will celebrate its 100-year anniversary.  That's going to be one heck of a celebration.
Downtown Amarillo Over The Years
Downtown Amarillo has seen an incredible metamorphosis. Take a look at the photos below to see just how much it's changed--you won't believe the difference.
Sixth Street Over The Years - WOW! What A Change!
Sixth Street in Amarillo looked incredibly different not too long ago. Have you forgotten what it looked like in 2007? Buckle up, the ride is incredible.
Check Out These 27 'Then & Now' Photos Of A Toxic Ghost Town
Picher, OK is regarded as one of the most toxic places in the U.S. These photos show what Picher once looked like, and what it looks like now.