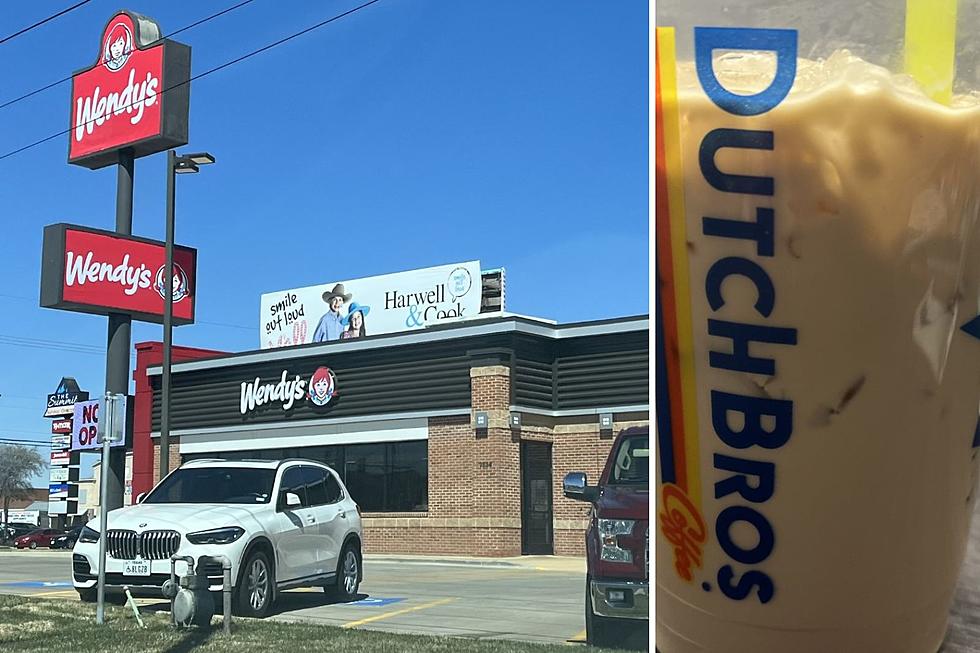 Amarillo Says Hello to a Remodeled Wendy's and New Dutch Bros
Lori Crofford/TSM
Hey have you heard, Amarillo has a few new places that are opening up?  One we've missed and one we've needed.
When was the last time you drove by 34th and Coulter?  Wendy's is at that corner and it is a popular place to grab a bit to eat.
One day there were signs up on the building and the drive-thru window and Wendy's at that location was closed.  They had closed it for remodeling.   It was gone and it has been gone for months.  The construction crews worked to get Wendy's remodeled and pretty.  As quietly as they closed the doors, they were just as quiet in reopening the restaurant.
The Wendy's at 34th and Coulter reopened their doors a week ago on March 23rd.  It has been nice to see cars in the parking lot again.
That's great news for Wendy's.
Here's even more good news!
If you travel Soncy quite a bit near 45th, something that was missing from that particular area was a coffee shop.  You could get coffee up the road near 34th, or over on Coulter but now you'll be able to get your fancy coffee.
Dutch Bros has finished its 4th location in Amarillo and it is officially opening on Friday, March 31st at 5 am!
You'll be able to get your favorites like the Golden Eagle, the Caramelizer, or their Rebel Energy Drinks.
The new location is located on Soncy and Bent Tree Drive. This is right next to Pak-A-Sak and south of Sakura.
It's exciting to see all the new coming into Amarillo, even if it is another location or a remodeled location.
The Cactus Cove Inn
The Cactus Cove Inn and Suites is a brand-new oasis in Amarillo.
The Cactus Cove Inn was formerly known as the 1Hotel or better known as the La Kiva.
The hotel has been remodeled and is now the perfect place to stay and enjoy many amenities including:
Convenient self-check-in
A sparkling indoor pool
Open & airy atrium
Indoor putting green for leisure activity
Giant cornhole boards
Car sharing with Turo
Free shuttle to the iconic Big Texan Steak Ranch and Starlight Ranch
Pets stay free
Tesla Charging Station
Plus, The Western Horseman Club will return to the hotel in its new form in June for a great place to kick your heels up and dance.
This will be the perfect place for those to stay while traveling or a perfect staycation.
The Bathroom Art Of The 806 Coffee + Lounge
The 806 Coffee + Lounge is Amarillo's hub for art and alternative culture. That includes the men's room.
Weird Signs On Coulter