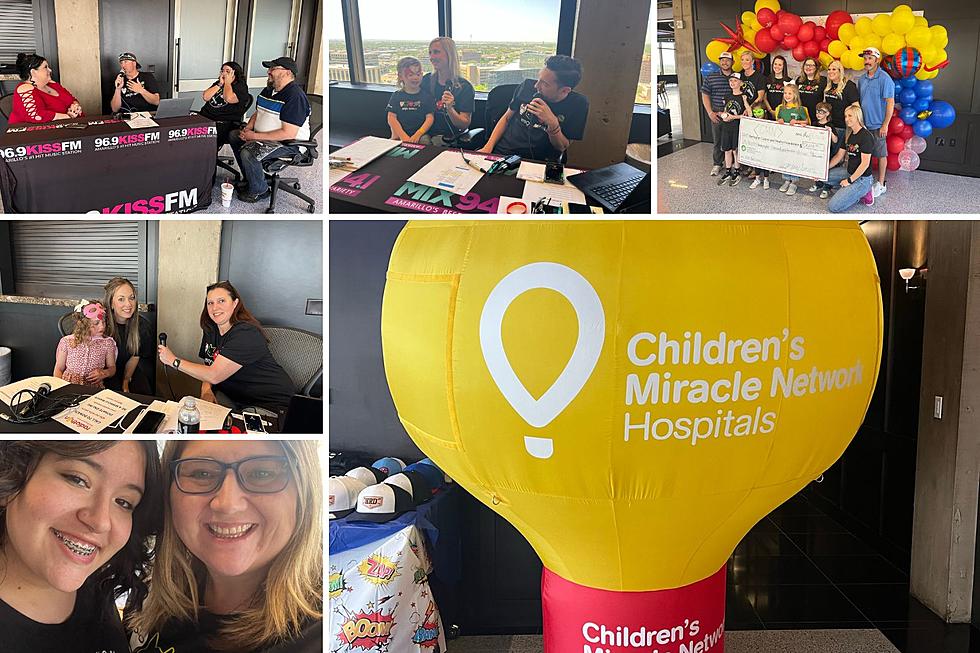 The Amarillo Community Gives Big for Children's Miracle Network
Lori Crofford
The one thing about Amarillo and the Texas Panhandle is the giant hearts of the people.
It may seem that only negative things are happening in Amarillo because that's all you hear about most of the time, however, that could be farther from the truth.
On Wednesday, May 3rd, Townsquare Media Radio Stations, 101.9 the Bull, 96.9 KISS FM, 98.7 the Bomb, Mix 94.1, and KAMR came together with the Children's Miracle Network for the annual CMN Mediathon.
Families from all over the Texas Panhandle stopped by to share their stories about how Children's Miracle Network helped their kids.
We heard stories of pre-mature birth, leukemia battles, skull surgery, kidney issues, and juvenile rheumatoid arthritis. We even caught up with kids that have been a part of CMN for 14+ years.
One extremely shocking realization came when a family said, the insurance would only cover up to a million dollars.  ONE MILLION DOLLARS!
What normal family could even fathom having medical bills over one million dollars?
Children's Miracle Network was there for those families and other families and will be there for future families who need help.
CMN takes a lot of those financial burdens off those families.  They provide life-saving equipment to our rural and local not-for-profit hospitals.  They provide toys and games for those kids in the hospital and so much more.
Thanks to the kindness of the Texas Panhandle you helped raise:
$128,558
This is the spirit of the Texas Panhandle, coming together to help their communities.
CMN Mediathon 2023
The Children's Miracle Network Mediathon, is a day to celebrate CMN and all the families they have served and will serve.
It's a giant party where kids and families, radio and tv all come together to raise money for this great organization.
All money raised stays local (right here in the Texas Panhandle) to help local kids!