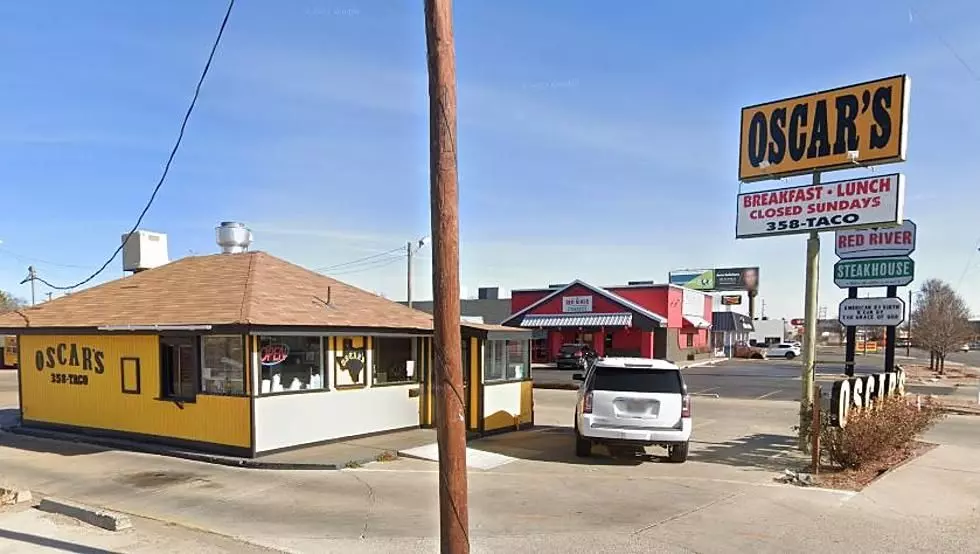 Want an Oscar's Burrito? You're Out of Luck Amarillo
Google Maps
It seems that a very beloved Amarillo business has closed its doors…again.
There is a place in Amarillo where you can, err, could get some amazing burritos. That place was Oscar's burritos.
Oscar's has seen many life forms in its existence. It has been in many buildings and its current home was on 45th near Teckla.
This big yellow building meant yummy breakfast burritos. It was announced in early 2022 that it was closing. The owner Oscar was ready to retire from the restaurant business.
A couple of months later Oscar's was opening back up. I got to speak to Oscar who said he had sold the business and the new owners would be keeping the name and the same recipes. He even stayed with them to train the new family and staff.
Fast forward to today and this sad sign was taped across their menu board.
Once again Oscar's is closed. Unfortunately this time it is probably for good. It's never a good thing when you pull up to a restaurant craving, in this case, burrito goodness and see a sign like this staring you in the face.
I'm afraid a collective sigh of sadness just swept over Amarillo and the Texas Panhandle.
I guess this little building that's been multiple things over the years is truly cursed.
Goodbye Oscar's I truly hope you are a phoenix and will once again rise from the ashes.
Amarillo's Restaurant Closings in 2022
We hated to see these places go!
New in 2022: All The Restaurants That Have Opened in Amarillo So Far!
We love all the new places for drinks and food! There seems to be so many that we can't keep track of it all so we've made a list and we're adding to it as we go along! Be sure to see what other new places have been featured when you can